The annual Kenyan TV and movie awards initiative Kalasha Awards has announced its nominees for 2019. Some of the productions that have been nominated include MultiChoice Talent Factory films Ensulo and Promises, earning a nomination for Best Feature Film alongside productions like Mugambi Nthiga's Lusala, Lowladee's Plan B and Nick Mutuma's You Again.
Out of all the nominees, eleven titles are available on Showmax with Maisha Magic East coming in a close second with nine TV shows in the television category.
In the Television category, among those nominated is Rueben Odanga's Swahili telenovela Selina, which is nominated in three categories, Best TV Drama, Best Lead Actress in a TV Drama for Celestine Gachuhi who plays in Selina and Best Lead Actor for Pascal Tokodi who plays Nelson Mackenzie.
Pete is nominated in the Best TV Drama, Best Lead Actress (Sahara Mohammed) and Best Lead Actor (Leon Ongaya) categories. Comedy-drama Njoro wa Uba has two nominations as Best TV Comedy (alongside 2018's nominee Varshita and Nyanya Rukia) and Best Lead Actor in a TV Drama for Joe Kinyua.
The awards are an initiative of the Kenya Film Commission (KFC). KFC has signed a Memorandum of Understanding (MOU) with digital television company StarTimes for the 2019 Kalasha Awards.
Voting for the 2019 Kalasha Awards will be on the StarTimes ON mobile app and will take place between 30th October to 30th November. The application will be the only online voting application for the awards. The awards ceremony for the 2019 Kalasha Awards will be on 30th November. Star Times Media will also sponsor 34 categories in the 2019 Kalasha Awards
The full list of the 2019 Kalasha 2019 nominees is below: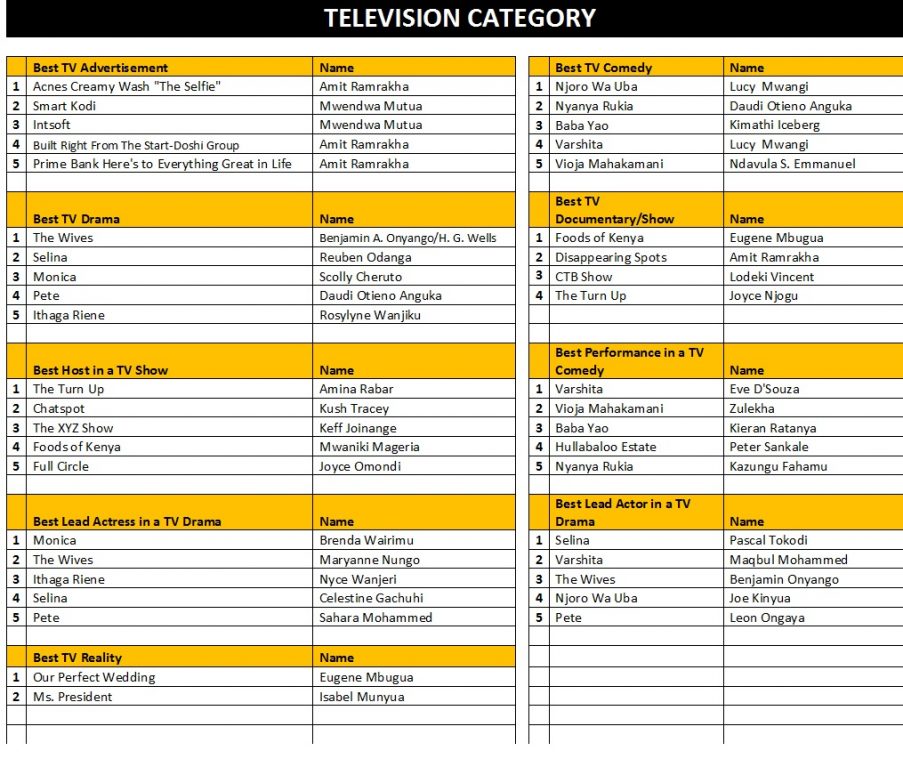 Where to watch Kalasha Awards 2019 nominees
Film Category
1. Plan B (Best Feature Film, Best Director of Photography) – Available on Youtube and Showmax
2. Lost In Time (Best Feature Film, Best Original Screenplay, Best D.O.P, Best Sound Engineer, Best Editor, Best Director, Best Original Score, Best Lighting Technician, Best Production Design, Best Lead Actor in a Film) – Will be screened at Anga Cinema, Diamond Plaza on 2 and 3 November 2019
3. Ensulo (Best Feature Film, Best Student Feature) – Available on Showmax
4. Promises (Best Feature Film, Best Student Feature) – Available on Showmax
5. Uhuru (Best Short Film) – Streaming on Youtube
6. What's on Your Mind? (Best Short Film, Best Director, Best Lead Actress in a Film, Best D.O.P, Best Sound Engineer, Best Editor, Best Original Score, Best Lighting Technician) – Available on Youtube
7. Best Friends Forever (Best Lead Actor in a Film, Best Lead Actress in a Film, Best Supporting Actor in a Film, Best Supporting Actress in a Film) – Available on Youtube
Television Category
1. Selina (Best TV Drama, Best Lead Actress in a TV Drama, Best Lead Actor in a TV Drama) – Available on Showmax, Maisha Magic East
2. Monica (Best TV Drama, Best Lead Actress in a TV Drama) – Available on Showmax, Switch TV
3. Pete (Best TV Drama, Best Lead Actress in a TV Drama, Best Lead Actor in a TV Drama) – Available on Showmax, Maisha Magic East
4. Ithaga Riene (Best TV Drama, Best Lead Actress in a TV Drama) – Available on Inooro TV
5. Chatspot (Best Host in a TV Show) – Available on Switch TV
6. The Turn Up (Best Host in a TV Show, Best TV Documentary/Show) – Available on Maisha Magic East
7. Full Circle (Best Host in a TV Show) – Available on Switch TV
8. Our Perfect Wedding (Best TV Reality) – Available on Showmax, Maisha Magic East
9. Njoro wa Uba (Best TV Comedy, Best Lead Actor in a TV Drama) – Available on Showmax, Maisha Magic East
10. Nyanya Rukia (Best TV Comedy, Best Performance in a TV Comedy) – Available on Showmax, Maisha Magic East
11. Baba Yao (Best TV Comedy, Best Performance in a TV Comedy) – Available on KTN
12. Varshita – Available on Showmax, Maisha Magic East
13. Vioja Mahakamani (Best TV Comedy, Best Performance in a TV Comedy) – Available on KBC
14. Hullabaloo Estate – Available on Showmax, Maisha Magic East
15. Varshita – (Best TV Comedy, Best Performance in a TV Comedy, Best Lead Actor in a TV Drama) – Available on Showmax, Maisha Magic East