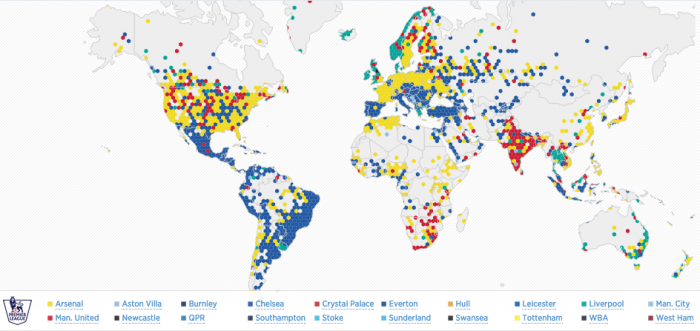 Twitter has unveiled the English Premier League fan map that shows a breakdown of fans across the globe based on the followers of all 20 clubs. If you think you know where Premier League fans are located then you may be in for a surprise.
The map was created by looking at the official twitter accounts for each team and using their followers as an indicator of allegiance.
This is how the interactive map works;
Find your club: Discover how your club fares in each country. Use the 'Zoom to' function in the right-hand corner of the map to instantly explore your club's presence in any given country.
Compare clubs: Pick any two teams and compare where they have their biggest density of followers. Compare local rivals such as Arsenal and ChelseaFC who faced each other in a London derby this past Sunday.
Most popular clubs: Use the dropdown menu to determine who the most popular clubs are in an area of your choice.
When it comes to Africa, Arsenal is the most popular club in the North Africa region. Chelsea Fc on the other hand has a stronghold in Ivory Coast which is the home country of Blues legend Didier Drogba. In East Africa Arsenal takes the lead in Kenya (30.81%) , Uganda (35.76%), Somalia (31.88%) and Ethiopia (52.32%). Tanzania is a stronghold for Manchester United (24.81%) , no wonder they don't get along with their neighbors…Lol . Further south, Manchester United prevails in South Africa, Botswana, Namibia and Zimbabwe.
In Kenya Arsenal fans have long been considered to be too noisy but now we have a logical explanation, "Tyranny of numbers".
Follow this link to check out the map interactive.twitter.com