The Immigration Department has introduced new rules that will take effect on May 1st 2015 for citizens who wish to apply, replace or renew a Kenyan passport. From now citizens will have to fill the application form online, pay the passport fees via MPESA beforehand and then download and print the filled application.
With the new rules the Immigration Department has shifted the cost of printing the application form to citizens while also going cashless. With the cash that immigration will save on printing one would have hoped that they would make the passport fees cheaper but they have instead added 50 shillings to each of the previous fees.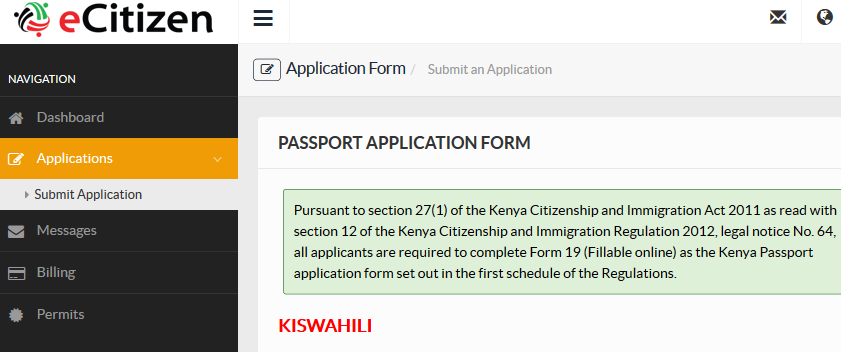 Below are the initial steps that Kenyans applying for a passport will have to follow.
1. Go to ecitizen.go.ke and register an account.
2. Login to the ecitizen platform after successful registration and navigate to Department of Imigration Services then submit application then Passport and Temporary Permits.
3. You should then click on Passport Application form. The page that opens has instructions on how to fill the application form.
4. After reading the instructions nagivate downwards and then click on apply now.
5. Fill the application form.
6. Select the mode of payment and then pay the passport fees. The payment modes are: M-PESA, Debit/Credit Card, Airtel Money and eCitizen Agent.
7. Download and print the application and three application receipts.
8. Submit the application form in person plus the necessary documents to an immigration centre near you (Nairobi, Mombasa and Kisumu).
The passport fees that apply are as follows
32 Pages – Kshs. 4,550
48 pages – Kshs. 6,050
64 Pages – Kshs. 7,550
East African Passport – Kshs. 990
Diplomatic passport (48 page) – Kshs 7,550
Mutilated Passport – Kshs 10,050
Lost Passport Ksh. 12,050
Kindly note that the new passport fees include a Ksh. 50 convenience fee which is most likely going to the company that built the eCitizen platform. Also, payments via Debit/Credit Card attract an extra 2.5% handling fee.
The other processes including the documents needed remain the same. Previous articles that I've written about Kenyan passports are below. Something to note is that Kenyans can now track the progress of their passports via the ecitizen website once they have finished the application process.
1. How to apply for a Kenyan passport
2. How to renew or replace a Kenyan passport
3. How to apply for a temporary Kenyan passport
Also read: How to apply for a Kenyan passport on eCitizen