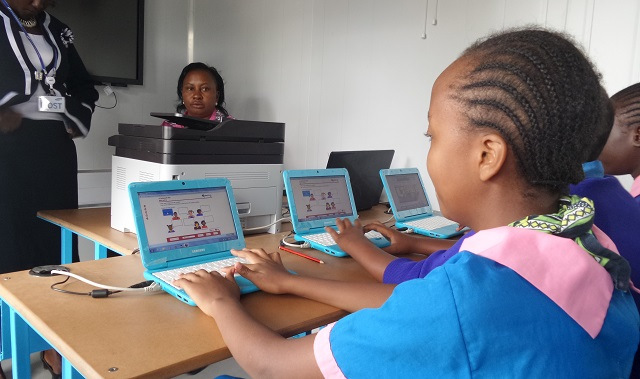 In a move set to improve the quality of education provision, has launched the first Solar Powered Internet School (SPIS) in Kenya. The school will help solve the problem of scarcity in the provision of learning material, low electricity connectivity in public schools as well as access to information, communication & technologies (ICTs).
Through the Hope for Children initiative, Samsung Electronics donated the SPIS to Arap Moi Primary School, in Kajiado County. The SPIS at Arap Moi Primary School is set to benefit 9 other nearby schools, namely – Kiserian, Nakel, Naro Moru, Nkoroi, Ole Kasasi, Oloosurutia, Olteyian and Rongai Primary Schools.
"At Samsung, we are keen to support societies and their communities in many different ways and the Solar Powered Internet School will provide better knowledge transfer, learning and research opportunities both for learners and teachers alike, as well as equip them with the necessary employable skills for the future," said Robert Ngeru, Samsung Vice President for East and Central Africa.
The SPIS is a 40-foot shipping container that Samsung will equip with 24 Samsung Laptops plus one for the teacher, a multi-purpose Samsung printer, a 50-inch electronic board, a server, internet access and the solar panels. All these devices are optimised for use in a solar-powered environment.
The e-board allows for cross-group collaboration between and among educators and learners across geographical boundaries. It can run video conferencing, access the internet, and connect to the computers in the container, all simultaneously, providing an interactive learning and teaching experience for both the educators and learners.
The schools are built for use in remote rural areas with little or no grid electricity infrastructure and are easily transportable via trucks. The fold-away solar panels provide enough energy to power the classroom's equipment for up to nine hours a day. The solar-panels are made from rubber instead of glass to ensure they are robust and durable enough to survive long journeys across the country.
In cases whereby schools have electricity and a secure classroom, Samsung is will be able to supply the Galaxy tablets, e-board, servers and internet. These are known as Samsung Smart Schools.
Samsung has partnered with Intel and Korea Education and Research Information Service (KERIS) to pre-install content on the computers. Samsung has also collaborated with Safaricom in the provision of internet to the SPIS to facilitate connectivity to the world of information and research – this has been provided for a period of 5 years at no cost.
The progressive Solar Powered Internet Schools concept, places Kenya (as well as Rwanda, Ethiopia, Tanzania, Gabon, Ghana and South Africa) at the forefront of nations adopting and integrating ICT in their education models.
Image via techweez.com