The film industry in Kenya has been on a steady rise since independence, growing into a notable sector in the Kenyan entertainment scene. Since the era of veteran series like Tausi and Vioja Mahakamani, the film industry has grown in leaps and bounds, producing Hollywood stars like Lupita Nyong'o, Eddie Gathegi, Mumbi Maina, Benjamin Onyango, Mary Oyaya, and many more.
Additionally, the local film industry has produced internationally acclaimed productions that have been featured on global platforms like Netflix and Showmax. These include recent Kalasha Awards winner Just in Time, Disconnect, Mission To Rescue, Sincerely Daisy among others.
However, as witnessed in other countries, and most notably in Hollywood, the film industry has been marred by claims of sexual assault and harassment against film executives. Unfortunately, this vice has been happening since time immemorial, undermining the selection and exposure of talent throughout the industry. Sadly, even in instances where the victims speak up, their complaints either go unpunished or end up cutting short their careers.
The World Health Organization (WHO) defines sexual abuse and exploitation as actual or threatened physical intrusion of a sexual nature, whether by force or under unequal or coercive conditions. Sexual exploitation and abuse also includes sexual relations with a child, in any context, defined as a human being below the age of 18 years.
In this context, many complainants have cited threats to their careers if they did not cooperate with their abusers. Abusers often use their positions of power to seduce, coerce, manipulate, and attack victims using a need that is vital to the later demographic. This includes employment, good grades, mentorship, promotions, recommendations, referrals, auditions, or basic financial needs. Perpetrators exert their control by wielding implied or outright threats should the victim fail to cooperate.
This leaves victims scared to speak, because of what they have something to lose. Simply put, they are at their abusers' mercy. Some of them describe a feeling of vulnerability and inability to go against their abusers' wishes.
In August 2017, Lupita Nyong'o accused former Hollywood executive Harvey Weinstein of sexual harassment. In an op-ed in the New York Times, the 34-year-old, who won an Oscar for her performance in 12 Years a Slave, detailed several explicit passes that Mr. Weinstein threw her way when she was a student actor at Yale School of Drama.
Lupita indicated that she met the powerful movie producer in 2011 at a movie festival and he invited her back to his home to allegedly watch a film he had just produced. Fifteen minutes into the film, Mr. Weinstein, who had his young children at home at the time, allegedly lured her to another part of the house.
"Harvey led me into a bedroom, his bedroom, and announced that he wanted to give me a massage. I thought he was joking at first. He was not. For the first time since I met him, I felt unsafe. I panicked a little and thought quickly to offer to give him one instead: I would allow me to be in control physically, to know exactly where his hands were at all times," Lupita wrote.
She added, "I began to massage his back to buy myself time to figure out how to extricate myself from this undesirable situation." Before long, she wrote, he said he wanted to take off his trouser. "I told him not to do that and informed him that it would make me extremely uncomfortable." The incident then ended and she left the home.
The actress further revealed that she did not know how to process what had happened and struggled to be in the same spaces as Weinstein in subsequent meetings and events.
That year, many actors, especially in Hollywood, came out to tell their stories of sexual harassment, driving the #MeToo campaign on social media.
Back home, the film industry has had its fair share of sexual abuse and exploitation cases, though not very amplified nor publicized. Most budding actors have admitted to keeping mum about non-consensual sexual advances from producers, directors, and other executives, lest they lose their jobs and risk never acting again.
In a bid to get some insight into the sexual harassment situation in the local film industry, I spoke to a film director who has been in the industry for close to a decade. Although he chose to remain anonymous, the Director admitted that incidents of sexual harassment and abuse happen often.
According to him, many young actors, especially female actors, experience some form of sexual harassment throughout their career. "Unfortunately, this habit is so normalized, that sometimes victims don't think they are being harassed. Everyone is so keen on reaching the top and making it, that they do not care how they get there, as long as they do," he said.
Following the #MeToo campaign in 2017, Kenyan women followed suit, accusing some notable film personalities of sexual harassment. That year,  Nick Mutuma was accused of sexual harassment. At least two women claimed that Nick sexually harassed them.
Koome Gitobu exposed Nick on Twitter whom he accuses of sexually harassing his girlfriend at the Ameru Festival in 2016. Koome indicated that Nick made advances on the lady friend even though she was not interested.
He further revealed that the popular actor grabbed the lady and tried dragging her into his room, explaining that  she was trying to get into a cab when Nick grabbed her. According to him, the girl resisted going anywhere with Nick, until her friends came to her rescue. When Mutuma saw her friends, he let go but squeezed her behind, telling her he liked her body.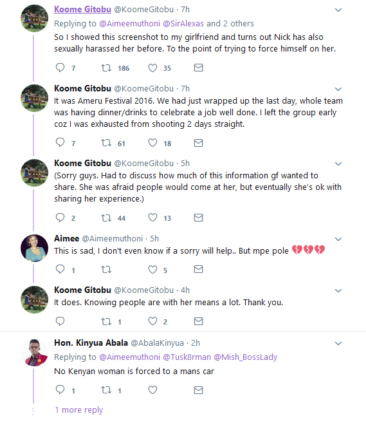 While talking to  KenyanVibe, actor Brenda Wairimu when asked about the existence of harassment in the workplace, she had this to say, "It's a very present evil, and sometimes we are forced to put our heads down and take it just so we can continue to put food on the table."
Brenda also indicated that she is loving the new trend of people getting exposed for their wickedness. She said she hopes that the next, more natural progression would be for the perpetrators of the evils to be dealt with by the law.
"People are slowly and surely getting outed for what they put women and girls through. The only thing remaining is for justice to get served, too," she said.
In the Kenyan Constitution, the Sexual Offences Act (2006) views sexual abuse as either sexual
assault or an indecent act. Sexual assault is defined as any unlawful penetration of another person's either with a part of the body or other object or manipulates their genital organs such that it causes penetration.
If found guilty and convicted, a person is liable to imprisonment for at least 10 years, which may be enhanced to life imprisonment. This means that complainants can get justice if they report and follow up on cases on sexual harassment and abuse.
An indecent act is defined as any contact with the genital organs, breasts, or buttocks of another but without penetration (this would include groping, spanking and such acts), or exposure or display of any pornographic material to any person against his or her will. This includes unauthorized forwards of nudes, suggestive texts.
If found guilty and convicted, a person is liable to imprisonment for up to 5 years or a fine of Ksh. 50,000 or to both. Other instances include false or fraudulent means, for example impersonation or pretending to be someone you are not to get sexual favors from someone, or even lying about your HIV/AIDS status.
Another category would include where consent is incapable of being given, for example where one is drunk, asleep, unconscious, drugged or is mentally impaired.
The same law also covers issues of date rape under section 27 of the Act, where it makes it an offence for any person to administer any substances with the intent of stupefying or overpowering another person to engage in sexual activity.
If found guilty and convicted of this offence, a person is liable to imprisonment for at least 10 years, in addition to any other offences for which they may have been convicted. This means that a guilty person can get 10 years for using the drug and whatever other penalty for the actual rape.
Sexual harassment in Kenya is mostly viewed from the workplace standpoint and as such is defined in section 6 of the Employment Act, 2007 as a situation where:
1.      A person directly or indirectly requests for sexual activity from another, usually a subordinate, with an express or implied promise of preferential treatment (e.g. higher salary, promotion).
2.     A threat of adverse consequences (such as being fired, a poor performance review).
3.     Sexual harassment can also take the form of unwelcome or offensive behavior of a sexual nature
4.     Use of language or visual material which makes the subject uncomfortable (sending sexts, nude photos, porn).
Section 23 of the Sexual Offences Act, 2006 goes further and makes it a crime. Unfortunately, this provision only applies to holders of a public office. If proven guilty and convicted, the accused faces a jail term of at least three years, a fine of Ksh. 100,000, or both.
One may elect to report the matter to the police, who will investigate the matter and if there is
sufficient grounds, the matter proceeds to a normal criminal trial, where the state, through the office of the DPP, has to establish a case beyond all reasonable doubt.
In conclusion, Sexual exploitation and abuse in the local film scene is a deeply rooted evil that can only be defeated with a collective effort. If victims do not feel safe and protected, then less of them are going to come forward. This trend unfortunately affects most of the sector, crippling productivity, growth, and scalability.