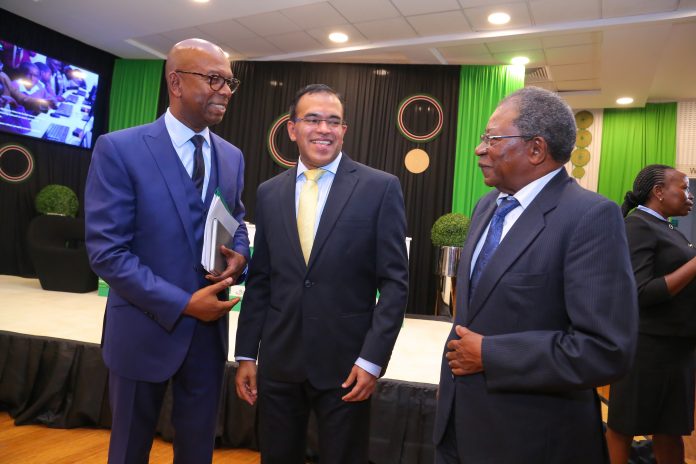 Safaricom has today announced their results for the year ended 31st March 2017 and as usual they have not disappointed having posted a net income of Ksh. 48.4 Billion up from Ksh. 38.1 Billion the previous year.
This rise in profitability was on the back of a 14.8% growth in service revenue to Ksh. 204.1 Billion. This can be broken down to a 2.9 % rise in voice revenue to Ksh. 93.5 Billion, 3.7% rise in SMS revenue to Ksh. 16.7 Billion, a 38.5% rise in mobile data revenue to Ksh. 29.3 Billion and a 37.4% rise in in fixed service revenue to Ksh.5.2 Billion. The is growth in service revenue was primarily due to a growth in active users and an increased usage of non-voice services mainly Mpesa and mobile data. Non-voice service revenue accounted for 54.2% of service revenue and was Ksh. 110.7 Billion, voice revenue on the other hand grew by 2.9% to Ksh. 93.5 Billion.
The growth in M-pesa revenue by 32.7% to Ksh. 55.1 Billion was driven by a 14.6% increase in the 30 day active M-pesa customers to 19 Million and a 35% growth in the monthly usage per customer to 10 transactions per month. Lipa na M-pesa continues to grow with 50,000 merchants who are active on a 30 day basis. A total of Ksh. 6.8 Trillion was transacted over M-pesa in the just concluded financial year which explains the rise in revenue.
Mobile data revenue which accounts for 14.3% of the service revenue grew by a whopping 38.5% to rake in Ksh. 29.3 Billion. This was driven by a rise in the 30 day active mobile day customers to 16.6 Million, increased bundle users and smartphone penetration. Fixed data revenue which is assumed to be their Fiber business increased by 37.4% to Ksh. 5.2 Billion which was attributed to a 21.2% growth in their fixed service customers.
A normal dividend payout of 0.97 per share has been recommended by the board. This will translate to a total payout of Ksh. 38.86 Billion.
Separately, the Safaricom board has renewed the contract of Safaricom CEO Bob Collymore for another 2 years. His old contract was to expire in August 2017.
At the results announcement, Collymore announced Safaricom will this financial year invest Ksh. 38B in its network. This is up from Ksh. 35B it invested in 2016. The 2016 investment included 4,000+ km of fibre reaching 47k homes and 1,445 buildings, 3,315 3G base stations and 1,103 base stations.