The nominees in the Kenyan Blog Awards 2016 (aka BAKE Awards) by the Bloggers Association of Kenya (BAKE) have been announced today. The nominees that were announced are in 19 categories ranging from Fashion, Technology to the big one; the Kenyan Blog of the Year. The voting phase of the competition has also been launched.
Among the nominees in this year's blog awards include:
The nominees were picked from a list of 4,899 submissions that were entered into the competition. Judges who included Mikul Shah, Muthoni Maingi, Ahmed Salim and Terryanne Chebet then went through the list and picked their best 5.
Voting in the competition is now open and will close on 1st May 2016. To vote for your favourite blog(s), just visit blogawards.co.ke/vote.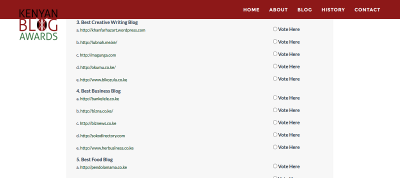 This year's competition was launched on January 8th and the winners will be announced at a gala event on 7th May 2016.
The nominees of the competition are as follows:
1. Best Technology Blog

http://www.mbuguanjihia.com
http://www.droid254.com

http://moseskemibaro.com/
2. Best Photography Blog
http://mwarv.click.co.ke
http://benkiruthi.com/blog3/
http://victorpeace.com
http://buoart.com/
http://leonmuli.com/
3. Best Creative Writing Blog
http://www.bikozulu.co.ke

http://okumu.co.ke/
http://khanfarhazart.wordpress.com
4. Best Business Blog
http://bizna.co.ke/
http://bankelele.co.ke
http://biznews.co.ke
5. Best Food Blog
http://thefitfabfoodie.com
http://www.tastesafari.co.ke

http://www.kaluhiskitchen.com
6. Best Environmental/Agricultural Blog

http://RocKeSci.Co.ke
http://www.farmbizafrica.com
http://farmerstrend.co.ke/
http://africancityplanner.com
7. Best Fashion/Beauty/Hair/Style Blog
http://luciamusau.com
http://itsacurvyaffair.com
http://wamboikay.com
http://mskibati.com/
8. Best Political Blog
http://info.mzalendo.com
http://gathara.blogspot.co.ke
http://brainstorm.co.ke
https://kanalispeaks.wordpress.com/
http://maunduville.blogspot.co.ke/
9. Best New Blog
http://cherriesvineyard.com
http://afyapress.com
http://stylebyshary.com

http://www.e-techafrica.co.ke
10. Best Corporate Blog
http://blog.ongair.im
http://blog.jovago.com
http://ihub.co.ke
http://www.kuzabiashara.co.ke/blog/
https://www.travelstart.co.ke
11. Best Topical Blog
http://owaahh.com
http://amiraafrica.co.ke/
http://thewondercores.com
http://stillamum.com/
12. Best Sports Blog
http://www.michezoafrika.com
http://www.futaa.com

http://osbke.com
http://thedugout.co.ke
13. Best Entertainment/Lifestyle Blog
http://www.ghafla.co.ke
http://www.niaje.com/
http://www.potentash.com

http://meanwhileinkenya.com
14. Best Education Blog

https://creativesacademy.wordpress.com/
15. Best Travel Blog
http://holidayafrika.com
http://www.safari254.com
http://theadventuresofcathy.com
http://theartofwanderlusting.wordpress.com
https://funtravelke.wordpress.com
16. Best Health Blog
http://afyapress.com
http://sitawa.blogspot.com/
https://couchhealthandfitness.wordpress.com/
http://healthkenya.co.ke/
http://lindaafya.co.ke/
17. Best County Blog

http://county-yangu.com/default/

http://loitokitok.com
http://laikipiaruralvoices.blogspot.co.ke/
18. Best Religious/Spiritual Blog
http://www.braveheartedliving.com
http://ummah.co.ke/
http://imwashigadi.wordpress.com
http://ernestwamboye.blogspot.com/
http://njerigichuki.blogspot.com
19. Kenyan Blog of the year
http://owaahh.com

http://www.niaje.com/
http://www.bikozulu.co.ke