In a sad turn of events an Uber taxi driver was attacked last night outside Muringa Court along Kirichwa road and his car set on fire. This is by far the deadliest attack so far on an Uber driver as in the past taxi drivers have only resorted to stoning the cars or just deflating the tires. A witness to the attack took a video and posted it on twitter.
Uber taxi driver attacked just outside Muringa Court along Kirichwa road. Car set on fire. Cc @uber_kenya . pic.twitter.com/Fd4Avzff8S

— Waitiki (@Fei_Tk) February 21, 2016
I'm even scared of using Uber now. Ai!

— Waitiki (@Fei_Tk) February 21, 2016
Fortunately the driver who was attacked is fine according to Uber.
If you have any other queries around this, please email support.nairobi[at]uber[dot]com. Thank you.

— Uber Kenya (@uber_kenya) February 21, 2016
What the taxi drivers don't get is that their continued attacks on Uber drivers are not doing them any favours but rather creating sympathy and interest for Uber from people who would have otherwise not used it. This is an extract from a conversation on the Facebook page Popcorn Movement.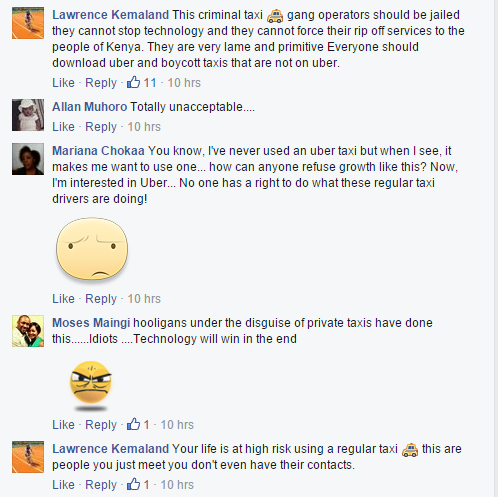 The attack happened despite assurances from the Interior Ministry that they would protect Uber drivers, we await to see what their response will be to this act of hooliganism.