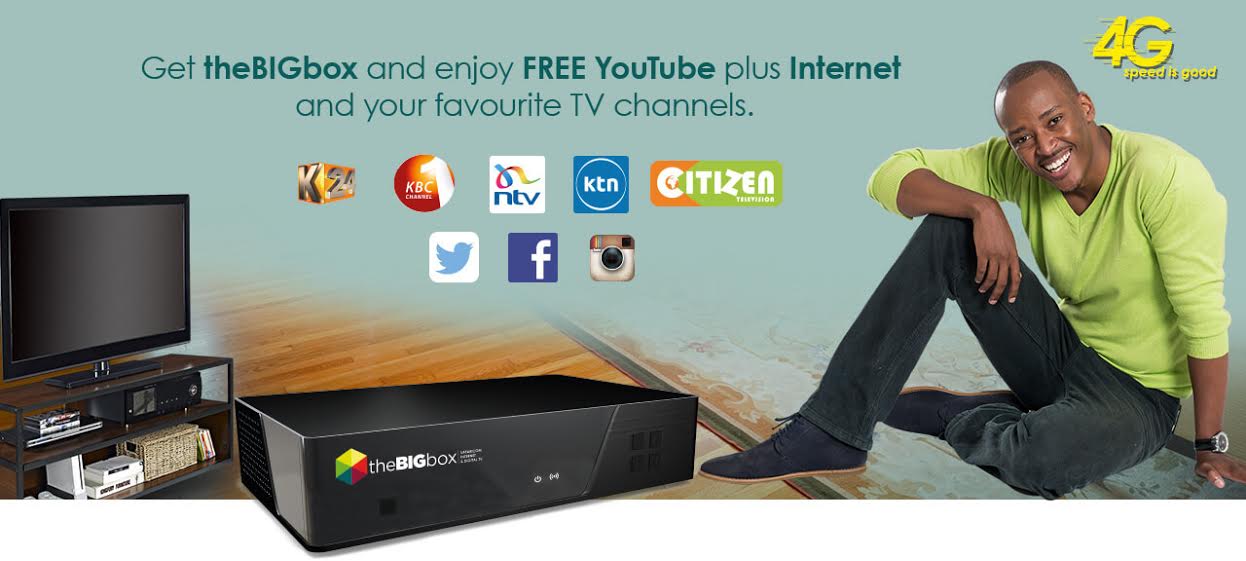 Safaricom has finally launched it's long awaited decoder "The Big Box". It is supposed to revolutionize the way Kenyans watch television. It is a different product offering compared to what is in the market in that it is a hybrid of a DVB-T2 decoder and a wireless router which basically enables customers to enjoy internet connectivity while also accessing local and international programming on digital television.
The Safaricom decoder has the following capabilities;
3G/4G internet browsing capabilities
Wifi hotspot (can support upto 10 users)
Free Youtube for the first 3 months ( This offer is only valid from 7th May – 4th August 2015)
Free to air channels
USB and SD media playback for pictures, music and videos
Tv recording capabilities
Parental control for Tv Channels
This decoder is priced at a one off fee of Kshs. 9,999.00 which is basically 10k. However you can choose and easy payment plan whereby you can pay Kshs. 4,999.00 upfront then pay Kshs.999 for six months. They have a sweetener being free 6 GB of data for the first six months. Based on the data prices below it seems the actual cost of the decoder is Kshs. 4,999 with the balance Kshs. 5,994 being the cost of the "free" 6 GB data. The Big Box is expected to be sold from safaricom shops.
The Big Box will have a discounted price for its data;
| | | |
| --- | --- | --- |
| Price | Bundles | Validity |
| Kshs. 999 | 6 GB | 30 days |
| Kshs. 1,500 | 10 GB | 30 days |
| Kshs. 2,000 | 20 GB | 30 days |
| Kshs. 4,000 | 50 GB | 30 days |
After the 6 months free data period, you will be expected to buy data for your decoder by dialing *422#. Thereafter you will be required to enter the decoder number (you will find this under the decoder on a sticker labelled MSISDN) then select the preferred data bundle. The data can be purchased using airtime or Mpesa just like the ordinary bundles. If you happen to exhaust your data bundles before the 30 day period, you do not need to worry as you can purchase more bundles by dialing *422# or by accessing the Safaricom bundles page webpage www.safaricom.com/bundles on the decoder.
Sadly one will not be able sambaza the data bundles in the decoder but one can sambaza to the decoder from another safaricom number.
This decoder was expected to challenge the Zuku's triple play. But the safaricom's offering falls short in that it doesn't offer free calls, it only provides FTA channels and it also does not offer unlimited internet. But if you live in an area without fibre coverage it might not be such a bad idea, more so if you choose to look at it from the point of view that it is a wireless router with an added bonus of Tv channels plus the cheap data plans are a good incentive to acquire one.