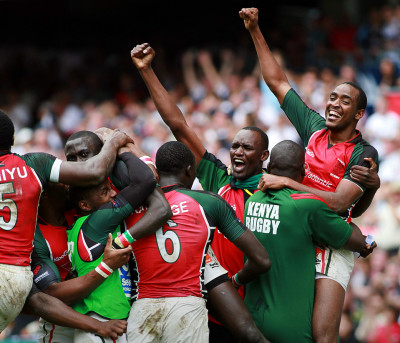 In a statement sent to the media, Safaricom has announced that it is withdrawing it's sponsorship of the Safaricom Sevens and the Safaricom National Sevens Circuit. The question now remains on how this will affect the progress made by rugby in Kenya.
When Safaricom came into the picture, rugby was on a steady rise in the country with the national sevens team getting praise for their performances on the international scene. Not only that but on the local level as well rugby was drawing the crowds and the game was developing at an impressive rate. Fast forward to a few years now and everything seems up in the air.
According to the statement by Safaricom CEO, Bob Collymore
"When we entered into this partnership, our vision was to grow the game from a grassroots movement to a globally recognized program. However, we feel that the ongoing issues affecting the organising bodies of the sport have shifted focus from the game and have decided to withdraw our support on that basis.
Safaricom first took on the title sponsorship of the Safari Sevens tourney in 2010 in response to the fact that rugby is a unifying embodiment of Kenya's competitive spirit and a platform to showcase the country's rich heritage of sporting excellence.
We appreciate the determination and discipline of our sportsmen which has cemented Kenya's position in the top tiers of the global sporting arena."
The problem seems to stem from the wrangles that have been ongoing at the Kenya Rugby Union and in turn affected the play on the field as well. From players going on strike to coaches being changed like an English Premier League club facing relegation. It seems that the progress that was made and brought the game a lot of praise has stagnated. In my opinion, I feel there is still an image to be salvaged and Safaricom's decision might be too premature. But that's just me.
On the other hand, there were also issues brewing with regards to how Safaricom handled the national circuit and especially the fans. For those who were avid followers of the game, there was a feeling that the sponsorship had made us lose something – the collective spirit that made the events about rugby – to it being just another entertainment affair.
Maybe this is what we need in the end. Not the loss of sponsorship but the return to the love of rugby. The times when we didn't go for rugby sevens to sit in our cars, drinking and other forms of debauchery but we were there to see the players sweat it out in the field for the love of the game.