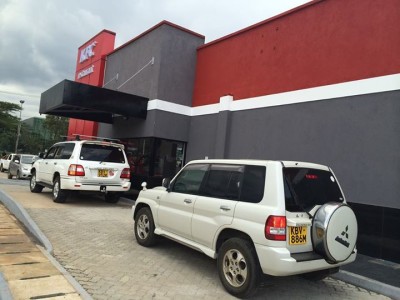 International fast-food chain Kentucky Fried Chicken (KFC) opened the drive through restaurant along Mombasa Road as the newest outlet to join the KFC portfolio.
KFC General Manager, Gavin Bell had this to say about the opening "Our new unit opportunity in emerging markets remains the best in retail and our opportunity to expand is huge. We have three iconic brands consumers love and more than 40,000 restaurants in 128 countries and territories. We're especially strong in high-growth emerging markets with more than 14,000 units and more than 50% of our operating profit in 2013 coming from the emerging world."
"KFC is capitalizing on Kenya's increasing mobility, fast-paced lifestyle, greater consumer spending power and desire for luxury items such as automobiles," she added Bell. The outlet will see the brands presence in Kenya increase, with this being the fifth outlet to open in Nairobi since their introduction into the market in the third quarter of 2011.
The drive-through outlet will see customers order, pay and pick up their food while still in their cars at a Total petrol station. The franchise is promising customers a service time of between two and five minutes from the point of making an order to the point of exit.
The drive through also happens to be the first of its kind in East Africa is located at the Total Petrol Station after the Tile and Carpet and Airtel Building on Mombasa road