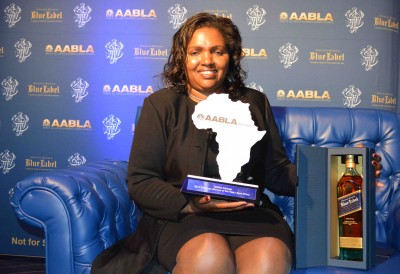 Tabitha Karanja , CEO of Keroche industry is among the winners of the East African round of the CNBC Africa All Africa Business Leaders Awards (AABLA) presented By Johnnie Walker Blue Label.
The AABLA, recognise the continent's trade and industry game-changers in the following categories: include Young Business Leader of the Year, Business Woman of the Year, Business Leader of the Year, and Entrepreneur of the Year.
This year, the East African Business Leader of the Year and Lifetime Achievement Award both went to Dr Reginald Mengi, CEO of IPP Limited, who has pioneered corporate social responsibility in Tanzania. A Forbes Africa July 2014 cover subject, Dr Mengi contributes much of his time and resources to worthy causes such as poverty eradication and economic empowerment, all of which impact disadvantaged communities, education, health and environmental conservation.
Manoj Shanker, CEO and Founder of Technobrain Limited in Tanzania, was named Entrepreneur of the Year owing to his successful efforts to build a unique African company that puts Africa first as a Communications Technology Solutions developer along with the capacity to win and deliver major national projects in countries across the continent and the world.
The Business Woman of the Year category lauded Tabitha Karanja as an industry leader owing to her 18 years as the CEO of Keroche Breweries Limited, a company that employs over 300 people and gives back to the community through youth education, in turn creating the next generation of Kenyan business leaders.
The accolade of East Africa's Young Business Leader of the Year went to Helvetic Solar CEO Patrick Ngowi, a serial entrepreneur and pioneer who founded the Helvetic Group of Companies, which is the fastest-growing network in Renewable Energy in East Africa. Mr Ngowi now has over 300 people under his leadership, contributing to growth and development while focusing on commercial and philanthropic initiatives in Tanzania and across the region.
With East Africa's business champions now having been crowned, the Southern and West African regional finals will take place in October, leading up to the pan-continental AABLA finale in November.