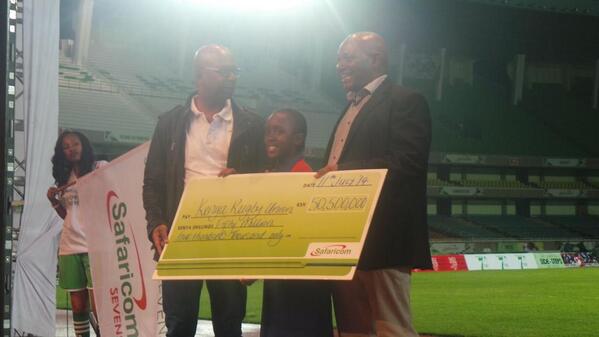 The Safaricom 7s series is back. Launched for the second time running by Safaricom, the series encompasses the Kenya National Sevens circuit and acts as a precursor to the Safaricom 7s tournament slated for 26th to 28th September at the 60,000 seater Safaricom Stadium (formerly Kasarani Sports Centre).
"Because of its growing profile, Sevens rugby has evolved in to the national sport for Kenyans. On our part we continue to invest heavily in the sport because we are keen to see Kenya become the number 1 sevens rugby playing nation in Africa and possibly get in to the top 3 globally .We are quite hopeful that our corporate support will aide in the efforts to get "destination Kenya" included as part of the 2015/2016 IRB season, that will be a big win for the country." said Safaricom CEO Bob Collymore.
Speaking during the launch, Kenya Rugby Union chairman Mwangi Muthee lauded Safaricom's continued support for the local game, singling out their commitment to delivering world class rugby to Kenya through their support of the local circuit as well as Kenya's bid to host a leg of the IRB Sevens World Series from 2015.
The circuit will kick off with Kabeberi Sevens Nairobi to be held on August 2nd & 3rd, followed by Dala Sevens Kisumu on August 9th &10th. Mombasa will host the Driftwood Sevens on 23rd & 24th August with the Prinsloo Sevens taking place in Nakuru on 30th & 31st August and the Christie Sevens which will close the local circuit will take place in Nairobi on September 6th and 7th.