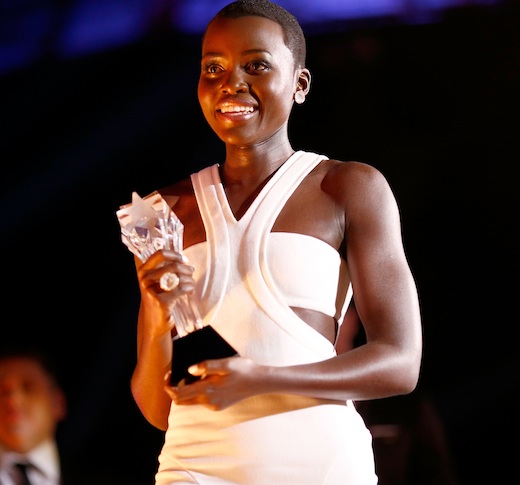 Lupita Nyong'o has started the year on a high note. Not only did she get an Oscar nomination yesterday for best Supporting Actress, she also took home a trophy for Best Supporting Actress at the Critics Choice Awards 2014 for her role in "12 Years a Slave".
In a tearful acceptance speech, she dedicated the trophy to her late uncle Aggrey Nyong'o. "I'd like to dedicate this to my uncle Aggrey Nyong'o who always came to watch every single play I was in … and on one of the last performances he saw me in, he said 'You're good, but let's see what Hollywood thinks of you,'.He didn't live to see this day, but I'm sure he's proud of me."
You can watch the rest of her acceptance speech in the video below.
12 years a Slave also won Best Picture at the Critics Choice Awards 2014
Complete List of Critics Choice Awards 2014 winners
Best Actor in a Comedy: Leonardo DiCaprio, "The Wolf of Wall Street"
Best Actress in a Comedy: Amy Adams, "American Hustle"
Best Comedy: "American Hustle"
Best Actress in an Action Movie: Sandra Bullock, "Gravity"
Best Actor in an Action Movie: Mark Wahlberg, "Lone Survivor"
Best Supporting Actress: Lupita Nyong'o, "12 Years a Slave"
best Supporting Actor: Jared Leto, "Dallas Buyers Club"
Young Actor Award: Adele Exarchopoulos
Foreign Language Film: "Blue Is the Warmest Color"
Animated Feature: "Frozen"
Ensemble: "American Hustle"
Best Actor: Matthew McConaughey, "Dallas Buyers Club"
Best Actress: Cate Blanchett, "Blue Jasmine"
Best Director: Alfonso Cuaron, "Gravity"
Best Picture: "12 Years a Slave"
Best documentary "20 Feet from Stardom"
Best cinematography "Gravity"
Best score "Gravity"
Best sci-fi movie "Gravity"
Best song in a movie "Let it Go" from "Frozen"
Best action movie "Lone Survivor"
Best Visual effects and editing "Gravity
Best makeup "American Hustle"
Best costume design and art direction "Great Gatsby"
Best original screenplay – Spike Jonze for "Her"
Best adapted screenplay – John Ridley for "12 Years a Slave,"
Image via