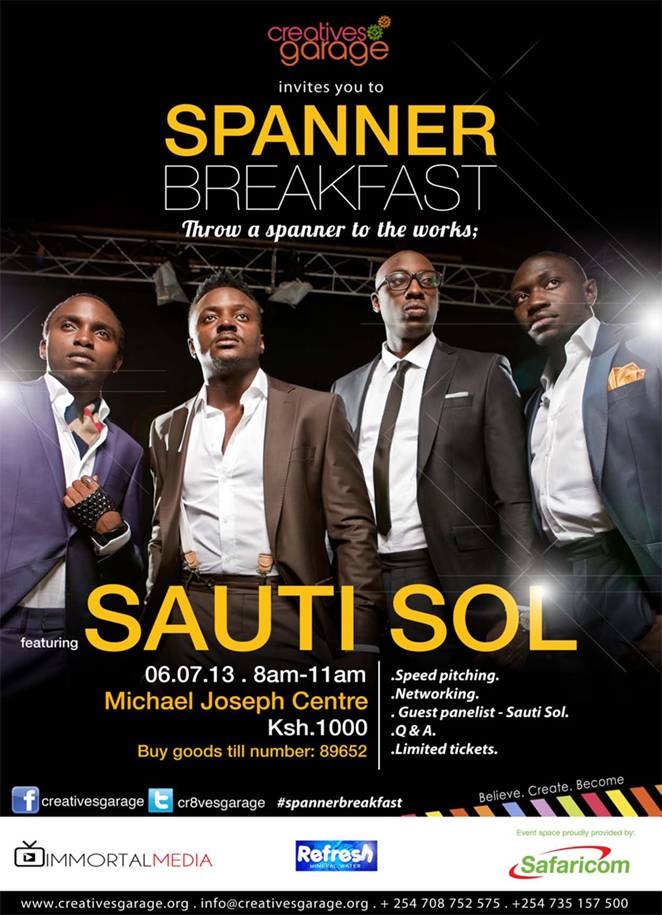 The Creatives Garage Spanner Breakfast is a breakfast meet held at the MJ Centre, with a guest panelist of creative entrepreneurs, that allows creatives to come together and share insights on a certain sector of the industry as well as network.
The aim is to celebrate outstanding creatives in the industry and have them speak about their creative journey and inspire fellow creatives. The first Spanner Breakfast was held in March and hosted the cast and crew of Nairobi Half Life. This month it's all about music and the guest panel shall include members of the Kenyan band, Sauti Sol. They shall be talking about their journey and the creative process that goes into their music. Check out what they had to say about the event below.


This is a great opportunity to get to understand the music industry in Kenya and also get an insight into what it takes to create good music as the Sauti Sol band has been doing for the past few years.
There shall also be present representatives from Kenya Copyrights Board and Music Copyright Society of Kenya to talk about their organizations and also answer any questions as to the role of these organizations.
Tickets are going for Kes.1000 and this inclusive of writing materials and the breakfast. The event takes place this Saturday at the MJ Centre from 8-11am. You can buy tickets via our Buy Goods number 89652.