In this our beloved country, health systems usually don't work for the benefit of the common mwananchi. This means that a serious illness in the family becomes a fast ticket to poverty and strife. Thus, having an insurance cover becomes a necessity, sadly given the current economy not many people can be able to afford such a cover. However, there are some employers who care enough about the welfare of their employees to get them a health insurance cover. A good example of such a cover is the Teachers Service Commission (TSC) health insurance cover for teachers under Minet.
I had a chance to have a look at the cover and here are some of the highlights;
Eligibility
For one to be eligible for the cover, one has to be a teacher employed by the TSC and in active service. Dependents are also eligible for the cover, however, one is allowed only one legal spouse of the member and four unmarried biological or legally adopted children. Children are covered from birth to 25 years of age provided they are in recognized post-secondary institution. There are no age limits for child dependents who are disabled which to me is awesome given their special needs.
Registration
The registration process for the principal member (teacher) and their dependents is pretty simple and straight forward. It basically involves a USSD registration and a biometric registration ( this is done at the hospital). All the principal member has to do is dial *865# from their Safaricom or Airtel line, key in their TSC and National I.D numbers. If successful, one then is required to enter their name, role and gender. After which the teacher received a message confirming successful registration and a prompt to register dependents.
For the dependents the principal member follows the same process, that is dialing *865#. After which one selects the dependent to be registered that is either a spouse or a child. Thereafter one is prompted to enter their date of birth, full name, I.D or birth certificate number.
Accessing medical services
After registering for the cover, one needs to know where they can be able to use their cover to access medical services. A member can do this by simply dialing *340# from their Safaricom/Airtel line. Thereafter they are prompted to select the kind of service required that is outpatient, inpatient, optical or dental. Other details required are county and sub county which helps Minet determine which hospitals to recommend for the member.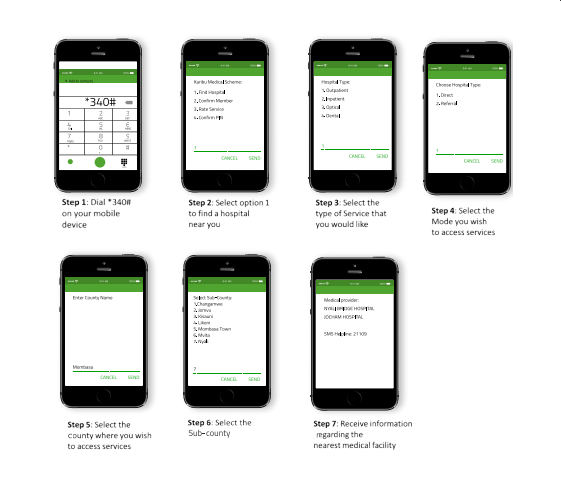 Benefits
The benefits provided under the cover came as a pleasant surprise in that I didn't expect them to be this good. Actually, some of them are better than what is offered to individual or even corporate clients. For example, the scheme covers chronic diseases like cancer, epilepsy among others without a member having to wait for a period of 12 months as is the practice in a majority of insurance covers. All a member has to do is enroll in the cover's Chronic Disease Management program and a team from Minet ensures that essential drugs are delivered to the member and their progress is monitored regularly.
The cover also caters for treatment abroad in instances where the member cannot be able to access quality healthcare locally depending on the condition. In such an instance, the cover caters for airfare, accommodation, travel assistance, airport pickup and transfer to the hospital. When the patient comes back into the country they are linked to a local specialist for follow up. A good example of this is when Minet paid for a fertility treatment for Loise Wanjohi a 47 year old teacher who could not conceive normally. They catered for her treatment in Ahmedabad, India after which she was able to conceive an is well on her way to becoming a mother. It is instructive to note that there is no other private insurance health scheme which covers fertility treatment in the country.
Under maternity, the cover includes both emergency and elective caesarean sections, congenital conditions and pre-maturity expenses. This is important because other health schemes don't cover elective elective caesarean sections and pre-mature births. For would be parents this is a big win.
All in all, I think this Minet Kenya cover for teachers under TSC is quite awesome. Sadly, not all teachers know about it existence or have enrolled themselves and their families on it thus missing out on the various benefits. If you are a teacher or know of a teacher under TSC who is yet to enroll, advise them to do so asap.