With increased awareness of women's issues such as gender inequality & women's health and safety, it means that celebrating this year's International Women's Day is going to be a lot more important. International Women's Day (IWD) is a global day to recognize the social, economic, cultural and political achievements of women around the world and is observed on March 8th every year.
The theme for this year's International Women's Day is press for progress.
All around the world, women will celebrate this important day and Kenyan women won't be left out. Here's a small sample of events that will be held to celebrate International Women's Day 2018 in Kenya.
1. Women in Literature event – 2nd March 2018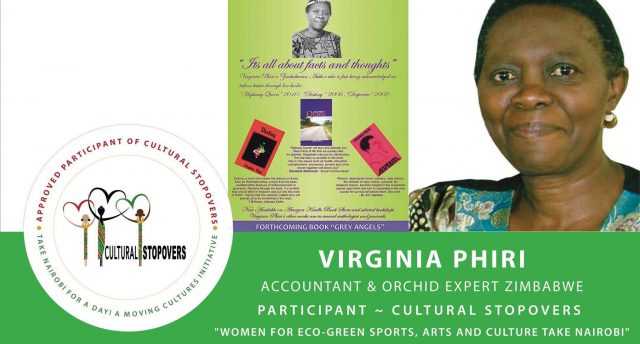 The event will be at the Pointzero Coffee at The Nairobi Gallery on Friday 2nd March 2018 from 9am to 12pm. It will feature Virginia Phiri, an author, accountant, orchid expert and Cultural Promoter from Zimbabwe. There will also be coffee tasting with Andrea Moraa plus a guided tour of the Nairobi Gallery.
2. 10-a-side Women Rugby Festival – 4th March 2018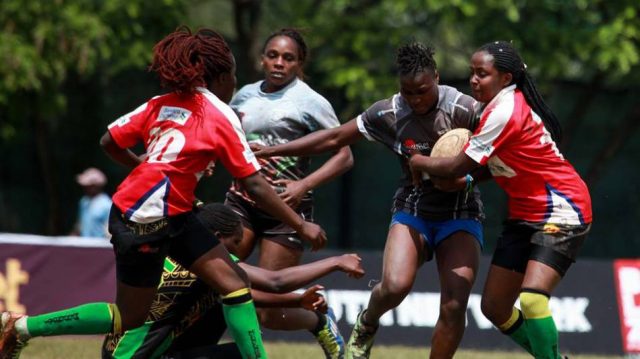 The Kenya Rugby Union will use the third round of the Women's 10-a-side festival at the Nairobi Railway Club on Sunday March 4th 2018 to celebrate International Women's Day 2018.
3. International Women's Day Conference – 7th March 2018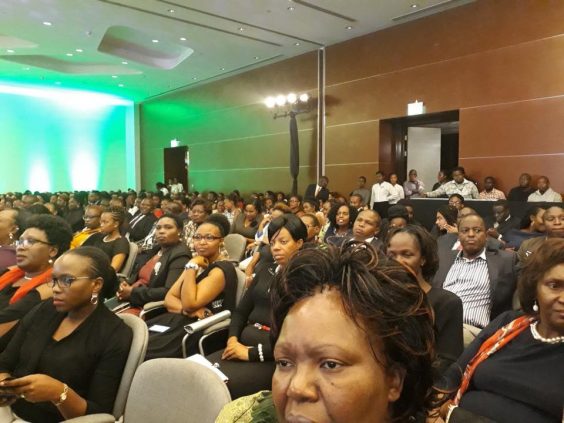 Women in Business Kenya will host an all day conference on 7th March 2018 at the Laico Regency.
Discussions will include:
Operationalization of the 30% procurement rule,
Financing options and the interest cap rate effects
Inter- county trading, Women and Devolution, Access to Markets
Charges are Ksh. 5,000. Contacts: +254-723105309‬/ +254-722871223‬
4. International Women's Day Breakfast – 8th March 2018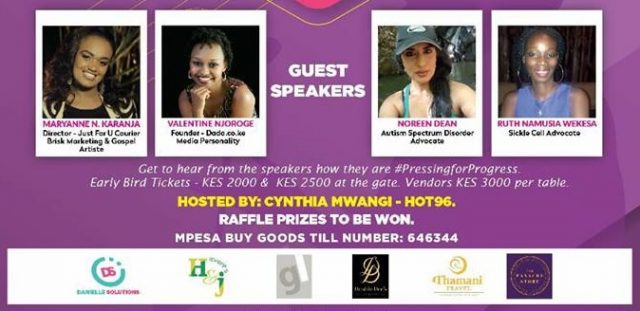 The International Women's Day Breakfast will be hosted at the The Concord Hotel & Suites from 7.30am to 10.30am on 8th March 2018. It is an initiative of Danielle Solutions in partnership with The Concord Hotel & Suites.
Panelists will include: Maryanne Karanja, Valentine Njoroge, Noreen Dean and Ruth Namusia Wekesa.
Breakfast will be from 7.30am – 10.30am and will be priced at Ksh. 2000 for early bird and Ksh. 2500 at the gate. There will be various vendors also showcasing and selling their products.
For bookings email: reservations@theconcordhotels.com
5. Celebrate International Women's Day through Women and Girls' innovation for a better tomorrow – 8th March 2018
This event is organized by UNESCO and will be at the University of Nairobi Towers, 4th Floor, Mini Theatre 2. It will start from 8.30 am to 1pm.
It will feature a panel discussion on topics such as:
1. Maintaining a gender parity mind set in the world of Technology
2. Challenging gender stereotypes and bias against women's involvement in Technology
3. Building confidence and encouraging women to pursue new careers in technology.
4. Addressing stereotypes on the role (or importance) of women in participation and decision-making.
5. Advocating gender mainstreaming and the rights of women in the tech industry.
Panelists will include Dorothy Sagwe, Martha Chumo, Nyakan Munyeki, Jacqueline Mebur, Judy Owigar and Alice Ochanda.
6. Homes and Heels – March 15th 2018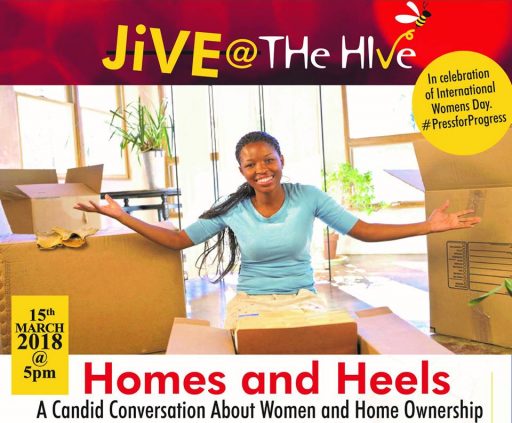 The Hive, a co-working space in Westlands, will host a conversation on women and housing on March 15th 2018 from 5pm to 10pm.
The forum will be opened by the Chair of Habitat for Humanity Kenya, Mr. Koome Kiragu and moderated by Architect and Urban Planner, Mugure Njendu.
Thereafter there will be a panel discussion featuring various women in the housing industry including:
Ms. Irene Wanjiku, MD of Rexe Roofing- A building Industry Manufacturer
Arch Emma Miloyo, President of Architectural Association of Kenya- First Female President of the Association and a practising Architect.
Ms. Kahaki Muindi, Executive Director of Daykio Plantations and also a Board Member of Wangari Maathai Institute
Ms. Jenny Nduati, A Building Industry Advocate and Board Member of Cytonn Investments.
The panel will cover topics such as:
Basics of home ownership
Access to finance
Land issues and the challenges faced by women.
Building your own home
Sustainable housing
Event details
WHEN: On Thursday, March 15th, 2018 at 5.00 pm ,
WHERE: THE HIVE, Westcom Point Building, Mahiga Mairu Road.
TICKETS: Advance sales at Kshs 1,000.00 ( includes bitings and drinks)
Tickets can be purchased by calling THE HIVE ON: + 254 707 244 920 Or via mookh tickets at: mymookh.com/event/608
7. Women in Manufacturing Gala Dinner – 23rd March 2018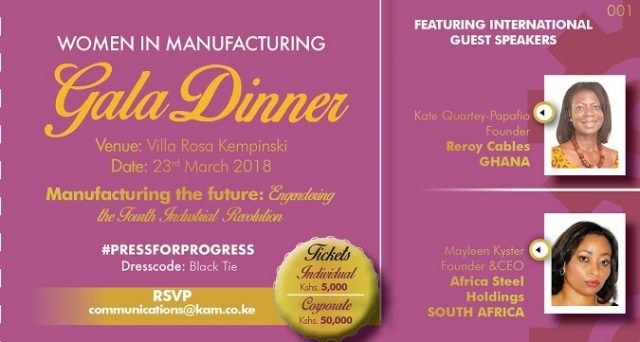 The Kenya Association of Manufacturers (KAM) will host a Women in Manufacturing Gala Dinner on 23rd March 2018 at the Villarosa Kempinski.
The event will feature speakers such as: Kate Quartey-Papafio, Founder of Reroy Cables in Ghana and Mayleen Kyster, the Founder & CEO of Africa Steel Holdings in South Africa.
Tickets are Ksh. 5,000 for individuals & Ksh. 50,000 for corporates. RSVP: communications@kam.co.ke