On 28th September 2016, Kenya's Deputy President William Ruto appeared on K24 in an interview with Richard Kagoe. It was touted as a platform where the Jubilee politician would be candid on a wide range of issues.
The interview was soft, with Ruto deflecting tough questions and Kagoe largely letting him control the interview. When it got to the issue of corruption, Kagoe played a clip from the LSK annual conference in Diani where ODM leader Raila Odinga had this to say, "When I talk about the high priest of corruption, you know who I am talking about. They preach to our youth in schools, churches and markets that it is what you have that counts and not how you got it that counts. They preach that success is measured in riches and it comes not from hard work but from cutting corners, deals, cheating and stealing from fellow citizens and from the government. The hustler culture." It was a dig at Ruto who had earlier addressed the same event. Ruto, as expected, trashed the claims of him being corrupt.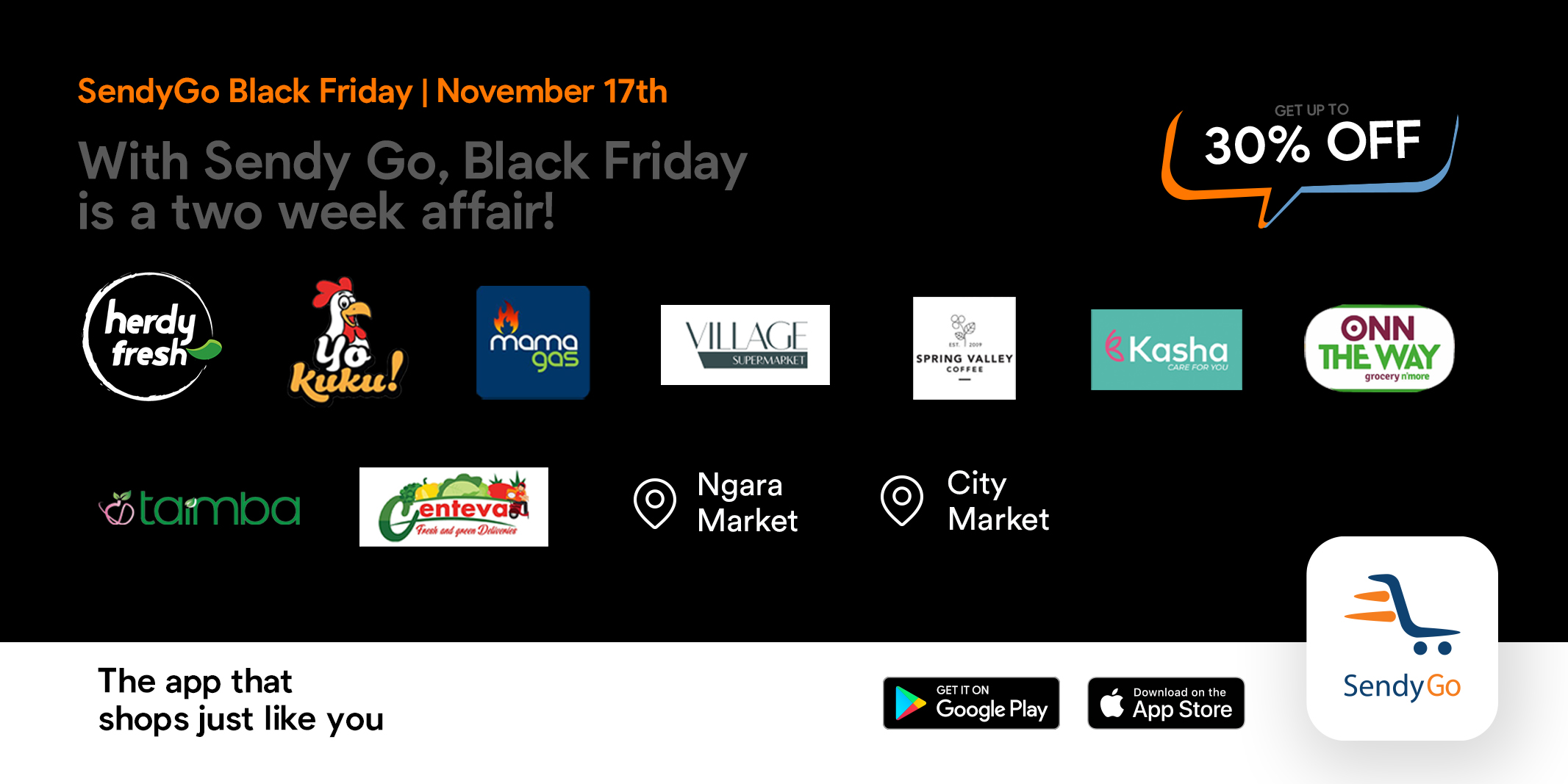 When Ruto decided to appear on TV, he probably suspected there might be blowback on Social Media. As a leader in modern Kenya, open public criticism online is normal. He however, made the mistake of name dropping Boniface Mwangi as a drunk and one of his critics online, when defending himself against corruption claims. Mwangi, as he is known to, dropped the following bombshells in a series of Tweets.
Deputy President @WilliamsRuto is a thief, who has never been formally employed. He has abused public office & used it to loot and grab land

— #BMUnBounded (@bonifacemwangi) September 28, 2016
https://t.co/douhhkevjq the back story of Deputy President @WilliamsRuto, the high priest of corruption in Kenya. His wealth is STOLEN MONEY

— #BMUnBounded (@bonifacemwangi) September 28, 2016
#TalkToRuto @WilliamsRuto declare your wealth,source of it & then pick a hospital where l can go for a blood test to prove that you're lying

— #BMUnBounded (@bonifacemwangi) September 28, 2016
DeputyPresident @WilliamsRuto is bitter with me.We stopped him from grabbing Langata Primary School playground.He wanted to a build car park pic.twitter.com/op0apXOD2m

— #BMUnBounded (@bonifacemwangi) September 28, 2016
Deputy President @WilliamsRuto you were found GUILTY of land grabbing and fined Sh5million. You're a thief who should be in jail #TalkToRuto pic.twitter.com/N002OA2MK8

— #BMUnBounded (@bonifacemwangi) September 28, 2016
VIDEO https://t.co/6qsjC522JM why Deputy President @WilliamsRuto who was found guilty of land grabbing is telling lies about me #TalkToRuto

— #BMUnBounded (@bonifacemwangi) September 28, 2016
When l heard about #TalkToRuto lying comment,this was my reaction & then l remembered l wrote about alcoholism,read https://t.co/vU7ktwlcgy pic.twitter.com/L6MT6oFCil

— #BMUnBounded (@bonifacemwangi) September 28, 2016
I hope Deputy President has no plans of killing me the way he killed his old friend,Jacob Juma a fellow thief who became a whistle blower.

— #BMUnBounded (@bonifacemwangi) September 28, 2016
Don't be afraid of those who want to kill your body; they cannot touch your soul. Fear only God,who can destroy both soul and body in hell. pic.twitter.com/U9Qj0WQxOU

— #BMUnBounded (@bonifacemwangi) September 29, 2016
Mwangi effectively derailed Ruto's best laid plans by diverting the conversation. The hashtag for the interview ended up trending for 17 hours.
On Thursday 29, #TalkToRuto was Trending Topic in Kenya for 17 hours: https://t.co/XicU82c8Ov #trndnl

— Trendinalia Kenya (@trendinaliaKE) September 30, 2016
On 30th September 2016, Ruto's lawyer Kioko Kilukumi of Kioko Kilukumi & Co. Advocates sent Mwangi a strongly worded letter seeking an apology and retraction of one of his Tweets. The Tweet in question was second last in the series and read in part, "I hope Deputy President has no plans of killing me..". The letter also demanded an unconditional admission of liability for libel in writing in 7 days failing which Mwangi would be sued.
Mwangi's lawyer, Gitobu Imanyara, on October 5th 2016 responded to Kilukumi in spectacular fashion with a letter that contained the following devastating paragraph:
"Your client claims that his reputation has been injured and seeks the Kenyan court to intervene and give him protection and damages. Our client will seek to persuade the court that that he has no reputation worthy of the indulgence of a court of justice either in Kenya or elsewhere. If need be our client will call witnesses to testify that they believe and perceive your client to have been involved in corrupt practices including land grabbing".
True to his word, Ruto sued Mwangi on 7th October 2016. His lawyer Kioko Kilukumi claimed that Mwangi's Tweet was scandalous and injured Ruto's reputation. He added that Ruto's name had been brought into public scandal and ridicule, and that his feelings were hurt. He also cited certain sections of the letter that Imanyara sent and claimed that they were defamatory, false and malicious. Find the court filing here.
Gitobu Imanyara, on behalf of Mwangi, on 21st October 2016 filed in court a defence and counter claim which stated in part, "(Ruto) has no reputation to protect arising out of the indictment at the International Criminal Court (ICC) for crimes against humanity, documented land grabs—both public and private— and previous implication in corruption scandals, to support his claim. Boniface Mwangi insists that he merely restated Cyrus Jirongo's assertion implicating Ruto in the murder of businessman Jacob Juma…." The documents that Mwangi's lawyer filed in court can be found here.
Mugambi Laibuta, a lawyer working on Mwangi's defence team, had his house broken into on 21st October 2016. The 'thieves' made away with his laptop and nothing else fueling fears of intimidation. Imanyara also claimed that there had been attempts to hack into his e-mails.
Just got home, my place has been raided. I have been working on a sensitive case. They went with my laptop and left so many valuables

— Olé (@Olez) October 21, 2016
Imanyara raised the stakes on 24th October 2016 by sending two letters, one to IEBC asking for copies of Ruto's wealth declaration returns and another to KRA asking for among others, names of companies Ruto is a shareholder and any dividends he has been paid by every company he owns.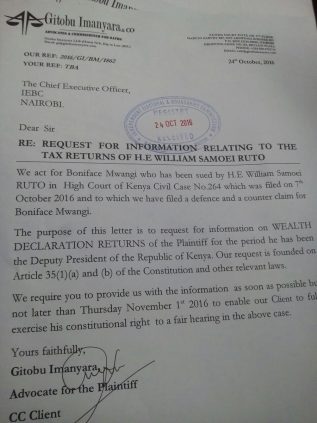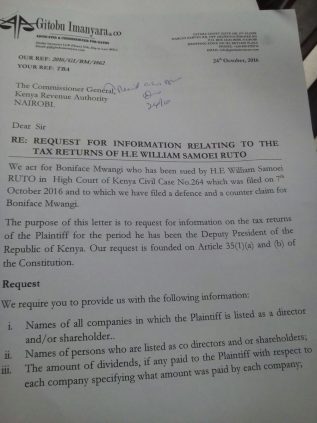 The two organizations declined to release the records requested.
Boniface Mwangi is an award winning photographer, internationally recognized leader and founder of one of Kenya's leading art spaces, Pawa254. Some Kenyan media outlets, while reporting on the case, chose to minimize Mwangi and refer to him as an activist. The word 'activist' has been used by some people in government and party sympathizers to refer to people that oppose them and who are not politicians. That they chose to use that word in place of his name and sometimes before it shows, in a way, where their loyalties lie.
Ruto threatens to sue activist Boniface Mwangi over Jacob Juma – The Star
Activist Boniface Mwangi denies defaming DP Ruto – The Star
Activist Boniface Mwangi demands Deputy President William Ruto's tax and wealth records in suit – The Standard
Activist asks IEBC to disclose DP Ruto's tax returns – Daily Nation
DP Ruto unfit to hold office, says activist – Daily Nation
On the Power Breakfast show on Citizen TV on October 25th 2016, the word activist, to describe Boniface Mwangi, was used freely. Gichugu MP Ejidius Njogu Barua, a Ruto ally, after prompting from Kibra MP Ken Okoth made a curious comment that Mwangi was 'touching a live wire' and putting himself at risk by proceeding with the case.
This case is a precedent setting one. What makes it important is that it not only fights for Boniface Mwangi's right to free expression, but also seeks to safeguard the same right for everyone who makes comments on a public official or a powerful person, as guaranteed by the constitution.