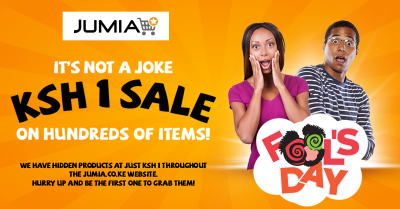 April fools day is a day celebrated every year on the first day of April as a day when people play practical jokes and hoaxes on each other. However Jumia will be holding a sale on Wednesday the 1st which is not a hoax whereby hundreds of items will be on sale for Kshs. 1, Yes i said it 1 bob.
The sale which will kick off at 9AM will see hundreds of lucky customers walk away with rather high priced fashion, electronic and general merchandise products for a ridiculous 1 bob. One will only have to spot the items valued at Ksh. 1, add to cart and complete the check-out process to claim the product.
The downside is that this applies to two items only . The shipping and return for Jumia will apply as usual. While this may seem like a typical April Fools Joke, only a fool will miss what can be considered the sale of the year
Parinaz Firozi the Jumia MD had this to say "This is not a joke! I dare you to take the challenge and make your first ever online purchase for Ksh. 1 bob online, you still don't believe it? Let's see who the fool is on Thursday."
I don't know about you but i will be definitely scouring the Jumia website for the Ksh. 1 deals.