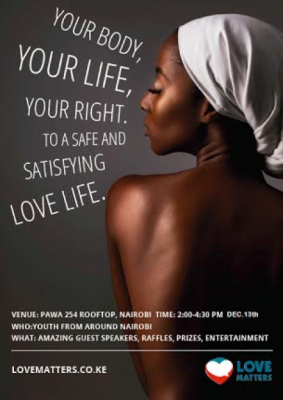 Love Matters is going offline. The online platform for information on safe sex and healthy relationships will be hosting an open event at PAWA 254 on December 13th from 2:00pm-4:30pm. The event will explore the themes of "your body, your life, and your right to a safe and satisfying love life".
The day will feature speakers, discussions, workshops and fun events that will be educational, inclusive and informative. Given the current state of female security in Nairobi, this event will draw on recent events and continue to raise awareness for gender based violence and sexual assault. Guest speakers will come from a variety of backgrounds and are experts in the fields of sexuality and mental health, LGTBQ rights, health sciences and women advocates.
This event is ideal for all people who are curious, want correct sexual information and are not afraid to learn new things in an open environment
Love Matters provides easy-to-access information and news on sexuality and sexual health for young adults around the world. It aims to have an open, honest, and non-judgmental attitude towards sex. Love Matters creates educational articles and facilitates online discussions on topics including, but not limited to: making love, safe sex, STDs, pregnancy, birth control, bodies and sexual harassment. Love Matters has decided to take their discussions offline to reach more people. This event is the first step to doing that
Entrance to the event is free and there will be prizes of smartphones and airtime to be won after workshops and discussions.