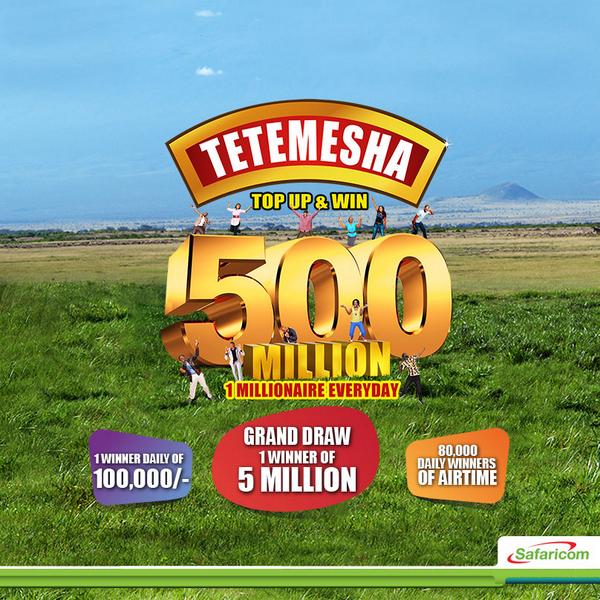 Safaricom has launched second edition of its consumer promotion in Kenya dubbed Tetemesha na Safaricom.
Here is all you need to know about it.
1. Duration
The promotion will last for 45 days. The promotion start date was 16th July.
2. Participation
Safaricom Prepay and Post-pay customers will be eligible to take part in the promotion. Participation will be automatic and based on direct airtime top up for pre-pay subscribers and usage for individual post-pay subscribers.
Customers will earn minimum two points for top ups between Kshs.20-49 and a maximum 100 points for top ups upwards of Ksh. 1,000. They will get entries for every top up done via M-PESA or scratch card.
3. Prizes
The Grand Prize is Ksh. 5 million.
45 winners will get Ksh. 1,000,000
1 daily winner of Ksh. 100,000
50 daily winners of Ksh. 10,000
100 daily winners of Ksh. 5,000
5000 daily winners of Ksh. 1,000
Ksh. 50, 100 and 200 airtime
Winners of the grand prize of Ksh.5 million, cash prize of Kshs.1 million and Ksh. 100,000 will be contacted through 0729 333 333. Winners of cash prizes between Kshs. 10,000, Kshs. 5,000 and Kshs. 1,000 will have their money sent through M-PESA.
The total amount of prizes to be given is Ksh. 500 million.
4. Last Year's Grand Prize Winner
Last year's winner, Damaris Wanjiku, bought a 100 by 100 piece of land and put up 18 rental houses and is currently in the process of building her dream home.