DStv & Simba Colt Motors have unveiled a customer loyalty programme that will see DStv customers stand a chance to win one of at least three Mitsubishi Lancer saloon cars or 12 months DStv subscription every time they reconnect before their due date. The initiative dubbed "Subscribe Ushinde" has been running since 15th January 2014 and will continue upto 31st March 2014, will also reward New Dstv subscribers.
Simba Colt customers who buy a Mitsubishi Lancer during the period of the promotion will each get a DStv standard decoder including one month free subscription on the DStv Compact bouquet.
More than 40 free subscriptions are part of 150 other fantastic prizes to be won in the promotion which is open to all DStv packages.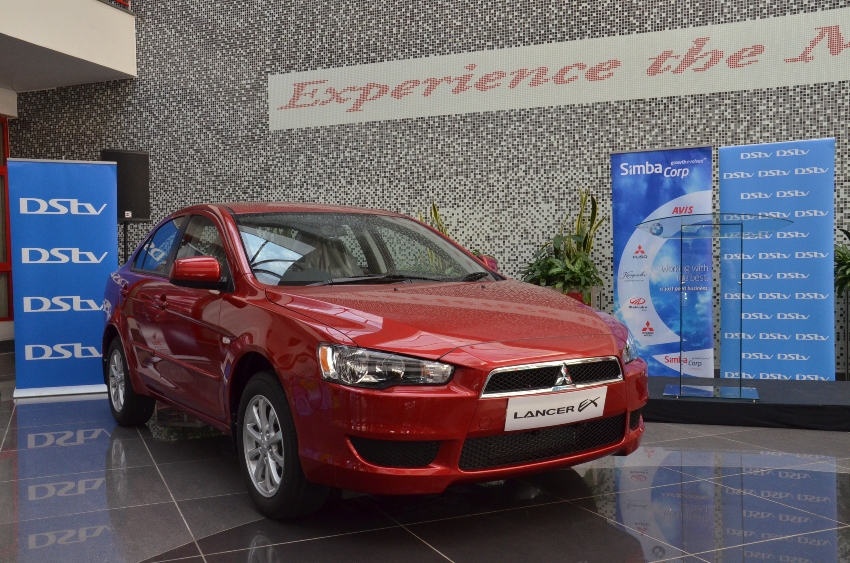 Besides the 3 Mitsubishi lancer saloon cars, the multi-million campaign will also see lucky winners stand a chance to win additional prizes such as 13 High Definition PVR Decoders, 91 Walkas and free subscriptions.
Speaking at the launch of the promotion which was held at Simba Colt's showroom on Mombasa Road –Nairob, Mr Dinesh Kotecha, the Executive Director of Simba Colt said DStv had chosen the Mitsubishi Lancer because of its great performance.
"It has been very active in Motorsports since 1974 when our very own Kenyan Driver the Late Joginder Singh won the East African Safari Rally in a Mitsubishi Lancer GSR."
Also speaking at the event was Danny Mucira, General Manager at Multichoice Kenya, who said that value is a top priority for their customers. The promotion was started to award reward loyal subscribers for staying connected to DStv for three months and above.
"At the heart of MultiChoice's rewards programme is a firm commitment to continuously provide innovative and unique home television services which are innovative and exciting and keep viewers at the cutting edge of pay television," explained Mr Mucira.
The continuous introduction of new programming and channels which meet the preferences of the family and new technology such as the Explora PVR, High Definition, DStv Mobile and the Drifta, are part of the company's strategy to keep its viewers glued to the screen.
The promotion comes when the country is in the process of digital migration which would be a better incentive for customers to opt for DStv.