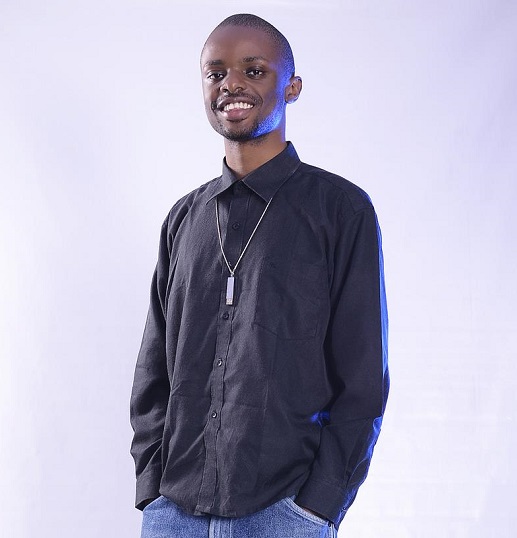 It used to be that for one to get entertainment news in Kenya they had to wait for the Friday pullouts in newspapers (Zuqka – Nation and Pulse – Standard). Not anymore. Entertainment websites have come up and it is now possible to get entertainment news as they happen which has almost rendered their newspaper 'counterparts' irrelevant. This space has several players including Niaje, IzVipi, Vibe Weekly and Ghafla.
Ghafla stands out by virtue of the amount of content they produce and a large audience. There has been a lot of talk about the quality of their content but that hasn't curtailed their growth. For a while now, they have been in the Top 20 list of the most popular websites in Kenya (according to Alexa) which is not an easy feat.
I talked to Ghafla's Sammy 'Mista Majani' Majani to find out more about the content juggernaut that he founded.
How did the idea for your start-up come about?
Ghafla! actually started out as a lyrics website called KenyanLyrics.com, and it was a one-man show run from my bedroom. I started KenyanLyrics.com in 2009, shortly after being discontinued from JKUAT and I was looking for a way to make something of myself despite that huge setback. In my brief attempt to get a college degree, I had amassed quite a large local music collection, since that was what really got parties going. Now that I was at home with nothing to do, I was listening to a Bamboo song I really liked called "Jamani." The flow of that song was really tight, so I decided to look online for the words. When I searched for Bamboo lyrics, all Google could direct me to were long stories about forest cover. After noticing this local content gap, I decided to fill it with Kenya's first lyrics website, KenyanLyrics.com. I also wanted to see Kenyan celebrities actually being celebrated. I imagined a day where, due to KenyanLyrics, fans of Kenyan artists would quit staring blankly at the performer, and sing along to each and every word, like they do abroad.
After two years of running KenyanLyrics, the growth of it was okay, but not as much as I had imagined. To increase the growth rate, I decided to rebrand KenyanLyrics to Ghafla! in order to allow for more topics such as news, videos, photos, and to make room for a possible expansion outside Kenya. After coming up with the idea for Ghafla, I noticed an online ad on Facebook (yes, I actually look at ads) that was from a Danish company called HumanIPO (now known as 88mph), and they wanted to have a weekend hackathon where they would invest in the winners of the hackathon. I did my research on the people behind HumanIPO, and found out that they were involved in a Danish website, very similar to what I had envisioned Ghafla! to be. Seeing this perfect fit between HumanIPO and I, I decided to make their hackathon the launch platform for Ghafla. We won the hackathon, got the investment, and the rest is history.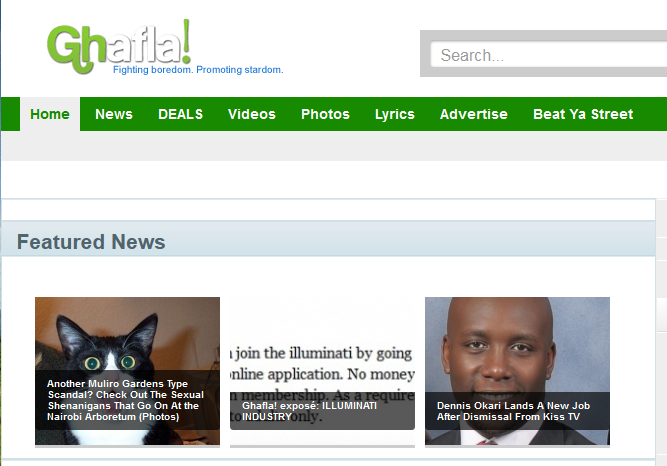 Your biggest challenge so far?
The biggest challenge has been handling the crazy growth of Ghafla! and expectations that come with it. We initially intended to amass a moderate readership size before looking for revenue and follow-on investors before scaling up. However, our readership grew almost 10 times faster than our projections indicated, and we ended up being a cottage outfit with a mainstream-sized audience and mainstream-media quality expectations. That has led to a lot of friction with grammar nazis, celebrities who are sensitive about what light they are portrayed in, and some of our clients as well. However, we are pouring all our revenues and efforts towards solving these growing pains.
What has your start-up achieved so far?
So far, we have become the largest entertainment website in Kenya, the largest blog in Kenya and dare I say, the largest entertainment publication regardless of medium, by readership. We are also the 2nd most influential media company online in Kenya, according to Klout research. And we are also the first commercially viable blog in Kenya, with our website profitably sustaining the livelihoods of 11 hardworking young Kenyans.
What has contributed to your success to this point?
The commitment the team has shown to building Ghafla! full time.
Our investors, Nailab & 88mph, for trusting us with their money despite historical proof that there was only a very slim chance of us giving them a return.
Our adherence to the Lean Startup Methodology, that has enabled us to grow with incredible efficiency.
What made you choose entrepreneurship over employment?
I didn't really have a choice after being discontinued from JKUAT.
What are your thoughts on start-ups in Kenya?
When it comes to internet startups, I'm starting to see some real successes coming out from the likes of PesaPal, Cheki and EatOut, which have become stable mid-sized companies in the allegedly treacherous online environment. Start-ups in Kenya are finally starting to walk the walk after much talking was done previously.
Which key individuals have been of great help to your start-up?
My parents of course, for allowing me the space to pursue a start-up despite my big academic failures. Sam Gichuru, the Nailab proprietor, for hooking Ghafla! up with some free office space that allowed us to focus purely on team building in the first few months, and giving us some key social media tips. The investors at 88mph, who really pushed for a quick rollout of Ghafla's news offering, and just look how that turned out. Not forgetting the Mad Men at Ghafla! who give us all those crazy stories.
Going forward, what does your start-up need?
We need for more Kenyan companies to recognize that the internet offers the most measurable and cost-effective ad campaigns that you could possibly do, and for the common mwananchi to realise that online purchases are extremely safe and easy once you get the hang of it.
Check out ghafla.co.ke and connect with them on Twitter: GhaflaKenya and Facebook: /GhaflaKenya.