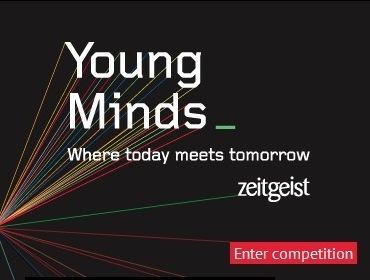 Zeitgeist is one of Google's most prominent events, where over 400 of the most influential business leaders and key visionaries from around the world come together to share their perspectives on global issues.
Zeitgist Young Minds is a competition to find 10 pioneers, innovators, change-makers and leaders of tomorrow aged 18 – 24 across Europe, Middle East and Africa to take their place alongside the greatest innovators of today in London this May at Google Zeitgeist 2012. The young minds competition applicants must be residents of South Africa, Algeria, Germany, Saudi Arabia, Belgium, Egypt, Spain, France, Ireland, Israel, Italy, Jordan, Kenya, Morocco, Nigeria, Uganda, Holland, Poland, Czech Republic, United Kingdom, Russia, Sweden, Tunisia and Yemen.
10 Zeitgeist Young Mind winners will win a chance to attend a special programme of events and masterclasses held at this year's Zeitgeist Europe 2012.
To participate in the Young Minds competition, just upload a short [60 second] video telling your story, what matters to you and how you're making a positive impact on the world to www.zeitgeistyoungminds.com before 26th March.
The judges for this year's competition will include UK Digital Champion Martha Lane Fox, social entrepreneur and hip-hop artist Akala, award winning inventor Emily Cummins, software developer and founder of metaLayer.com Jonathan Gosier, and Channel 4 news presenter and correspondent Jon Snow.