Nairobi's entertainment scene is continuously growing, and it's no surprise when we get to host big international acts. Jameson Connects Kenya has been amongst the pioneers of this, having brought us artists like 2 Chainz, BoB, TY Dollar $ign, Bas, Desiigner and Stefflon Don.
The 2019 edition took us way back to when most of us still weren't legal, ha ha, and brought us the man known as the King of Trap, the King of the South, T.I. Now, this is a name that gives a lot of us throwback vibes, but there is also a lot to be said about their timing. What with T.I being surrounded by controversy over his statement about taking his daughter Deyjah for virginity tests every year, and his beliefs that women cannot be good leaders since they are emotional beings.
He was also not the artist that a lot of people expected from Jameson, seeing that they have been edging towards a younger, more modern sound. He landed in Kenya with his wife Tiny and went straight to a presser hosted at DusitD2, where various media representatives had questions ready.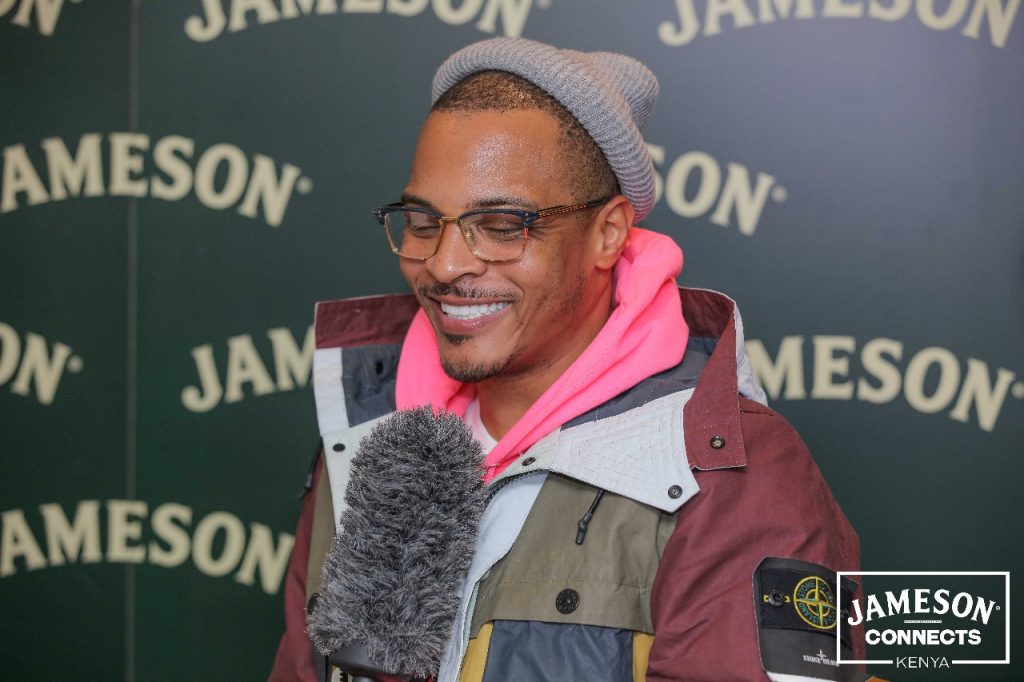 It was his first time in Kenya, but not Africa. He has been to Tanzania, and South Africa too. Each time he visits the continent, he gets inspiration and enlightening from the difference in perspective and culture here. This is a sentiment that a lot of international artists share. Nairobi, to him, has an energy. An excitement that can be felt and seen.
Is he planning on collaborating with any African, and more especially, Kenyan artists? Yes. He has, and is planning more on it. He did a track with P-Square back in 2014, dubbed 'Ejeajo', and has a yet-to-be-released track with Nasty C, who has also graced the Kenyan stage under Jameson Connects Kenya. On signing African artists to his label Grand Hustle Records, he said that he needs a lot of resources and time to come and learn the authentic African sound. He added that he also  also needs someone to guide him through the continent's musical journey.
What does T.I, the King of Trap, think about the evolution of this particular genre? It's evolving and expanding, with many more people telling their stories through it, experiences that listeners can fully relate to. Trap, to him, isn't a particular sound that you can pin down to a tune, it's a feeling, a vibe. In his most recent album, 'Dime Trap', he has a song called 'The Weekend' featuring Young Thug, and he says,
The Dime Trap
Plainly put, it's like a TED talk for hustlers
The evolution of Trap Muzik
Now, Trap Muzik is, you know, a dope boy's philosophy
A former trap nigga's experiences and adventures
Said to music
But not just, when he cracking a key or when he
Cooking the work or when he sell it and get busted
We know all that
What happen when he go on vacation, you know
How is that
What happen when he fall in love?
Or have his first child
All we want to cover all those bases because dope boys go through many, many things
Just because it's trap music, don't mean it got to be one dimensional
Diversified vibes.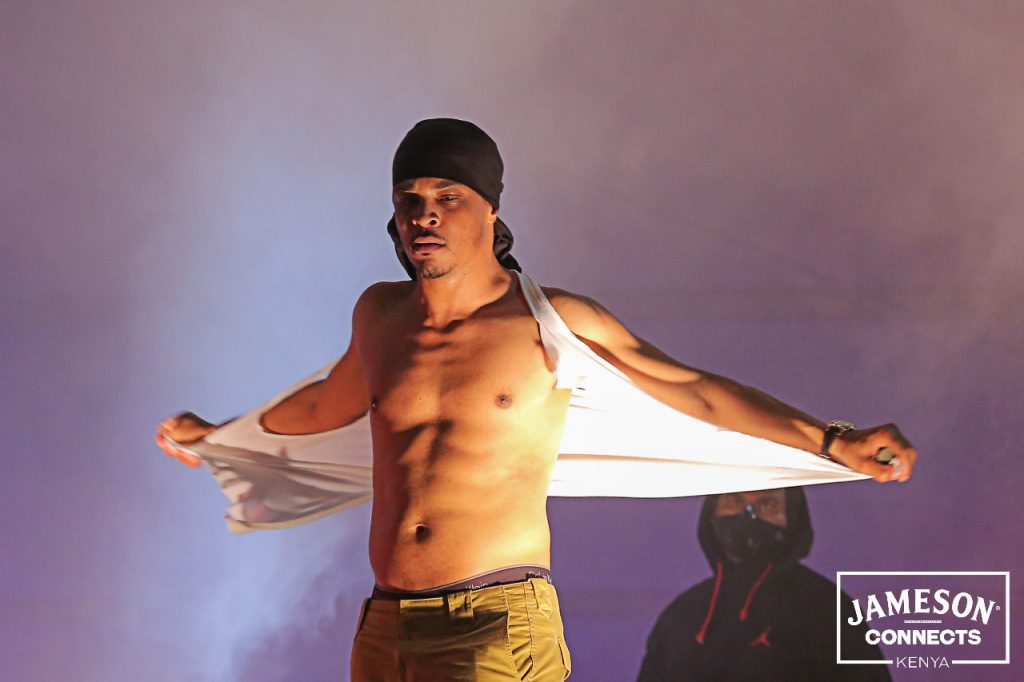 T.I has grown from a sort of "King of the South' sound, to a more cultured sound, heavily involving social justice themes too. Things that have been pivotal to this transformation have been his desire to see people treated with equality, the same way he would like to be treated too. He wouldn't refer to himself as an activist, since he is in it for the profit yet there's people who have given up their whole livelihoods to defend others, but he says that this profit is necessary in helping him give more to others, and also for him to be able to speak freely on various issues.
His last words of advice to artist who are up and coming is to not look at the resources that one has, or the journey ahead, but to take the first step, and keep going. Look at the one thing that is going great, and hold on to that, everything else will fall into place.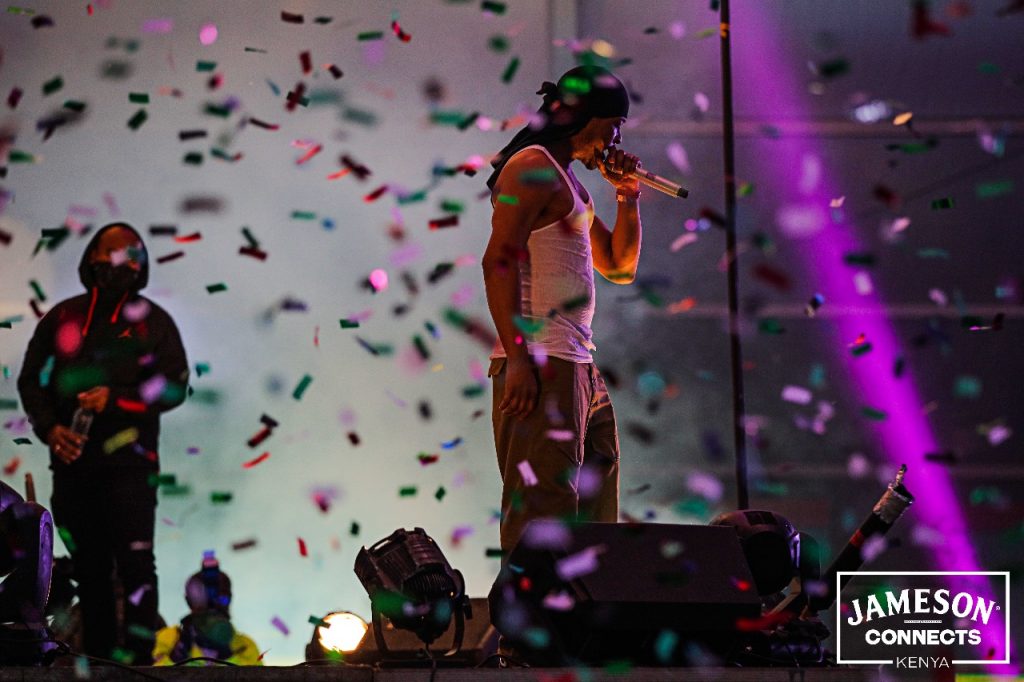 Now, on to stuff that's more fun, ha ha, his concert, which was held at the Uhuru Gardens this past Saturday. You would think that the cold, rainy weather Nairobi has been experiencing would stop Kenyans from having a fun night out, but boots and jackets were invented for a reason, and the residents of this city know that. If you arrived early at the event, Jameson had you covered. With free shots at the entrance, a gaming zone, which included a huge screen to watch games from, plus a barber shop too.
Food and alcohol stations were pretty quick and efficient, and affordable too. The only alcoholic drink available of course, was Jameson. Sorry beer and vodka drinkers.
The performances started at exactly 11:25PM, with different DJs having held it down before that. The first artist to grace the stage was Bey T and her team of dancers, Katika Company. Afterwards was the 'Pombe Sigara' hit maker Nviiri The Storyteller, then Khaligraph 'Papa' Jones, who's stage presence is always so powerful the crowd is in a constant roar. Alternate Sound followed next, an African band that does the most amazing live renditions to songs.
At exactly 2am, after these artists had hyped up the crowd enough, alongside fire sets from DJs like Redbone, Hypnotiq and Jo Kisila, The King of Trap started his performance, and for 45 minutes, the crowd was wild. Performing hits like Live Your Life, No mediocre, Whatever you like, Bring 'em out, About the money and What you know, he took fan back in time, and soon, jackets were off because it got super hot in there despite the rain outside. He also took his clothes off, because he came on stage in a hoodie and rain coat, and left with no upper clothing on, having thrown his vest and durag to the crowd, plus given away his 'South Side' snap back to adoring fans, some of whom held up drawings they had done of him.
The concert went well, but, the standards of event organizing in Kenya still are not at their best. Jameson did a good thing by pouring gravel in the stage area, but stepping outside this zone to go to the washrooms, for example, meant you came back looking like you were from the farm, what with muddy pants, shoes and all. Ticket prices were also on the higher side, set at Ksh. 4,000. The first performance starting at almost half past eleven is a bit late too, although the spacing between performances was not bad. The stage was also well raised, meaning you could see the artists from afar, and you did not need to crane your neck or stand on tiptoe. Thanks to Kenyans on the internet though, feedback can be given easily to event organizers, so we hope for an improvement on the next one.
All in all, the event went well. Can't wait to see who will grace our stages come next year. But in the meantime, Live your Life!
Images by Anthony Mwelu – instagram.com/amwelu