BLAZE summit went down on Saturday at Uhuru Gardens. BLAZE markets itself as a youth network. It's a mobile network that was created by Safaricom to target the market segment of youth after between 18-25. Beyond that, they host youth summits where successful entrepreneurs/people provide insight to the youth on what it takes to build and sustain a business. There is also a TV show called Be Your Own Boss (BYOB) that gives contestants incubation and a cash prize of Ksh. 5 million.
The final summit this year was held at Uhuru Gardens. Despite the disappointment of the mega auditions the previous day, I was still quite excited about the summit.
At the entrance, there was the usual pat down by security, but what left a bad taste in my mouth was the manner in which the Riley Falcon security officers informed you that no food or drink was allowed. They were quite rude. As attendees, we hadn't been informed of the no food or drink policy.
To be allowed entrance, one had to finish whatever they carried, or leave it at the gate. The result was empty bottles strewn along the entrance and it was quite unsightly.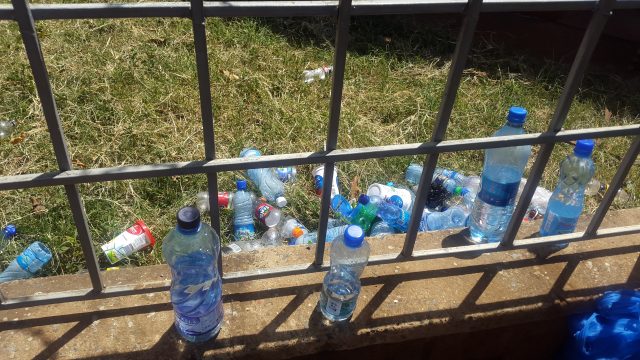 At the summit itself, I noticed that the focus was on careers in entertainment. Particularly music and acting. Farming also took the spotlight. It made the summit insular. It provided little diversity considering there are other fields like robotics which the youth are participating in and are passionate about but get very little focus aside from a five minute segment in the news once in a while.
I have no problem with the arts and entertainment, but those are not the only areas that are representative of being passionate and following your dreams. If you're going to hold a summit about following your dreams, go the extra mile to find young Kenyans who are doing so in as many fields as possible. It not only provides exposure to youth being featured but to the attendees of the summit as well.
The biggest irony  was Timmy Tdat. Kenyan musicians have been lobbying for DJs to play their content. So much so, that now, 60% of content being played has to be local. Timmy Tdat was the MC of one the biggest events this year and instead of aggressively promoting his work, he hyped the crowd to mostly Nigerian music and music from American and European artists. So if a DJ only plays foreign music, can you blame them? The artist isn't even making an effort to promote their work. Or if Kenyan youth only stream foreign music, will it be fair to reproach them? Timmy Tdat had a free platform to get this work out there a lot more and he wasted the opportunity.
BLAZE needs to diversify its mentors and showcase little known fields, such as STEM areas (Science, Technology, Engineering and  Math) and empower them the same way it empowers those in arts and entertainment.