I got to spend a weekend at the Voyager, in the company of an amazing crew of travel writers and photographers, and this post takes you through the highlights of our stay. You can check out this post for a comprehensive review of Voyager Beach Resort.
1. Dinner at the Captain's Table
Our ship was docked in Bahamas on our first night at Voyager, and we got the honor of dining at the Captain's table. A stay at Voyager Beach Resort is intended to simulate a voyage on a cruise ship that docks at different destinations and  so occasionally,  select guests get to dine with the Captain. We all arrived at different times, and the Captain received each of us and led to the Table where the wait staff introduced us and took our orders.
Each of the menus was personalized, rolled and fastened with a ribbon and then set carefully before us. I skipped the soup and had a lemon sorbet as my first course, which we all agreed was a great starter. I love my meat, so I chose the steak for my main course, which was so tender and delicious; I could have had more had I not been so full already.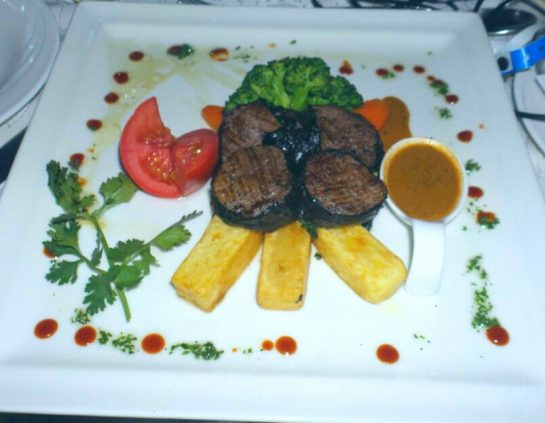 The dessert definitely deserves a special mention as it was amazing! First, each had our names written in chocolate, very neatly with the t's crossed and i's dotted and all! The presentation was beautiful and arty, and the blend of chocolate, ice-cream and strawberries tasted amazing! I have a famed sweet tooth so I really loved the dessert, and my name sitting so pretty, next to all the chocolaty goodness earned it even more points.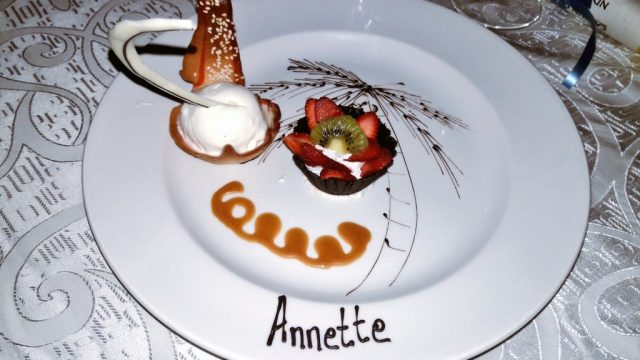 As if all the personalized touches throughout the dinner were not enough, the Captain had a final surprise card. Dining at the Captain's Table at Voyager is a fete so appreciated and recognized that the Captain honor's you with a certificate at the end of the meal. For what it's worth, that certificate did make me feel like a Certified Foodie, and had I been vain, I'd already have it framed and hanged in my kitchen AND living room. 😀
2. The Sunrise at the Beach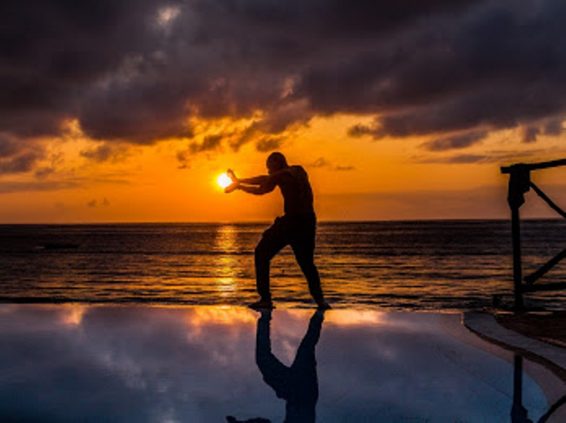 When you only have 2 nights to spend in a place as lovely as Voyager, you do not want to spend your time sleeping – at least I didn't. I wasn't too sleepy anyway, so the plan was to stay up all night waiting for the sunrise, so we could experience and marvel at the beauty, and of course take kick ass shots by the beach. I did manage to stay up ALL night and I was already counting on my victory at 5am, when the sleep bug struck!
Now, here's the saddest part.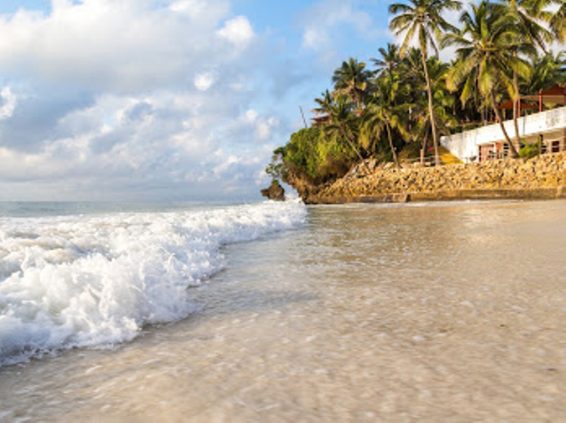 I fell asleep about half an hour before sunrise, and woke up just AFTER the breath-taking sunrise shots had been taken by the rest of the crew. Ever shut your eyes for what felt like a minute, and when you opened them, you were eighty with no teeth and life had passed you by?! That's how it felt.
My room was facing the beach, and the morning was absolutely beautiful, so I rushed over in a bid to salvage what was left. And, after getting some kick ass shots as well, you can bet that all was not lost.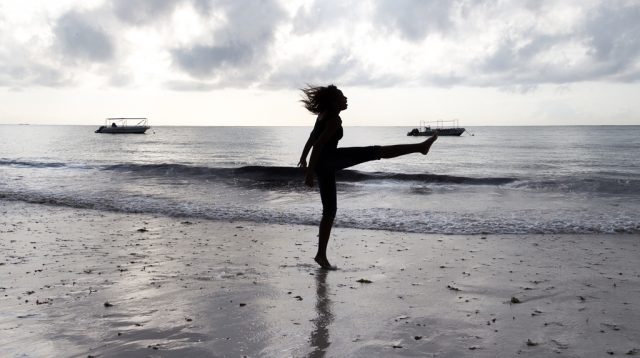 3. Organized Excursions
Fort Jesus and Old Town Mombasa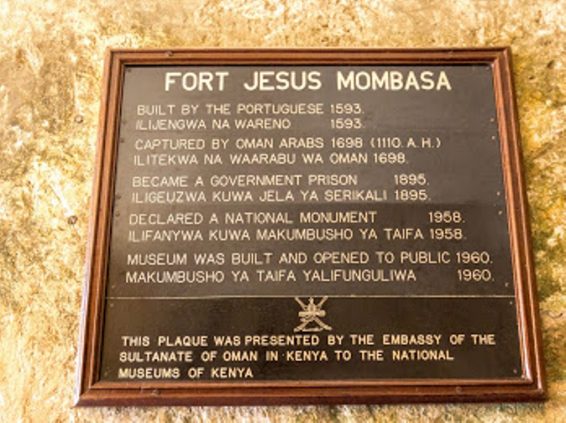 Our first excursion was to Fort Jesus and Old Town Mombasa. I particularly loved the views of the Ocean from different points at Fort Jesus and relearned a thing or two about the rich history and culture. One of the stores also sold some cool art work and you can drop by there for some souvenirs. Despite having been to Fort Jesus many times before, it was my first time taking a tour through Old Town Mombasa, and I was continually amazed at how long the architecture and cultural aspects had been maintained.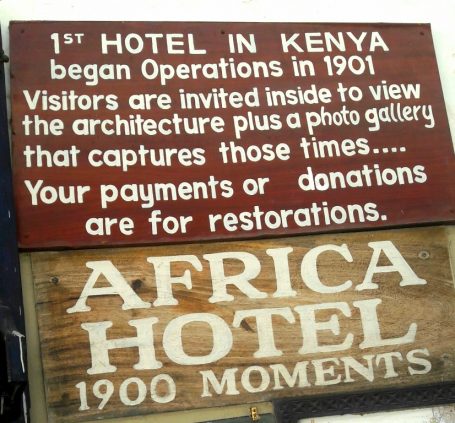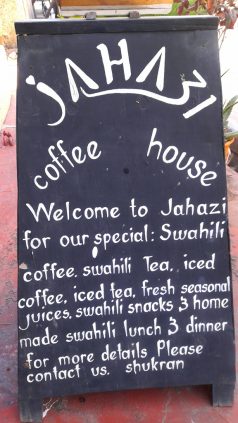 We passed by a couple of firsts, like the 1st Kenyan Hotel that began operations in 1901, and the 1st Police station. It was quite hot, as is typical Mombasa weather, and Jamila of LifeinMombasa.com introduced us to Jahazi Coffee House in Old town where we mostly had samosas, and cold tamarind and passion juices to go. Jahazi is a delicately beautiful small space, carpeted all through and with couches and cushions neatly placed on the floor like in a Swahili living room. It was so cozy that some people actually caught a brief nap as we waited for our drinks! There's even free Wi-Fi just in case you'd like to work, but it is an overall great place to just lounge. (A guided tour of Old Town Mombasa is definitely something I would recommend; do take this enlightening walk down memory lane on your next trip to Mombasa.)
We left Old Town Mombasa and headed back to Voyager for a quick late lunch at Kaskazi, which serves mostly burgers and pizzas on All inclusive. Right after, we set out to the Mooring Floating Restaurant in Mtwapa, just in time for the Sundowner cruise on the Dhow that starts at about 5pm.
Moorings Floating Restaurant and the Sundowner Dhow Cruise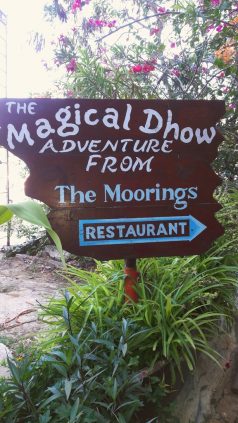 Moorings Restaurant is famed as Kenya's only floating restaurant, and it has been floating over the Ocean on Mtwapa Creek since 1994. The restaurant serves seafood as well as your other usual meats, and you can order for starters and desserts before and after your main course. There's plenty of sitting area even on the deck, and though the restaurant doesn't float away, the location and views still make it a pleasurable experience.
A cruise at Sundown in one of the Dhows at Moorings will likely be one of your best cruises yet. It is magical, and you really do need to experience it to understand why. Our crew got there at a little past five and headed straight to the Dhow which was docked right next to the deck.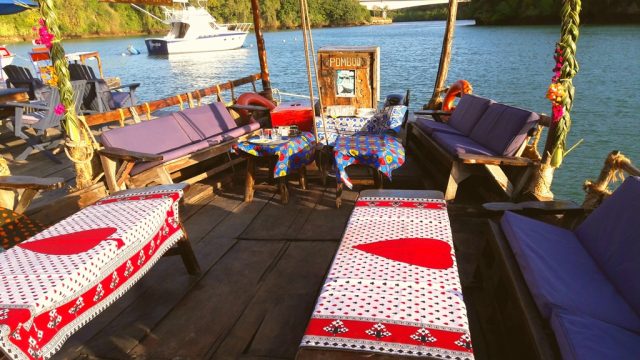 This Dhow was different; small and a bit aged, but the interior was modified so delicately, it did not feel like a boat at all. The sitting space was decked with lesos, which also lined a table that separated the couches on one end, and some of the coziest cushions on the other end. It reminded me of Jahazi a bit, and it felt like a unique Swahili experience all over again. There was soft music playing, and bitings (chicken wings, fish fingers) were served after the welcome madafu drink. Boat rides are usually not my cup of tea, but this cruise was so delightfully different that my reservations did not come to me even once.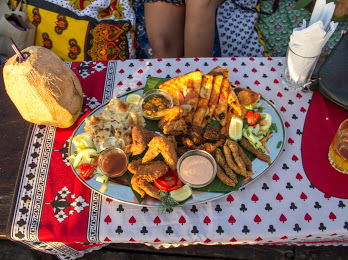 Watching the sunset on the cruise was another experience all together. We sat and watched the sun go down, slowly and beautifully, with the dhow gently rocking to the beat playing in the background. That moment was magical, and we couldn't help but click away, in a bid to save some of that beauty for later. There are daytime dhow cruises offered at Moorings, but if you have the chance to go at Sundown in the company of loved ones, do not pass it up. It will easily be one of your best cruises yet.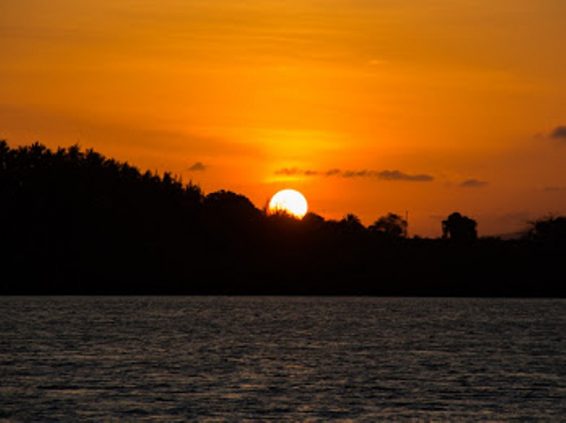 We got back to the restaurant a short while past 7, to find Karaoke night (Usually on Saturdays)! My bad voice and I don't pass up a chance at Karaoke if there's an actually good singer in our midst. We let her take the mic so that the rest of us could off key sing our hearts out, and boy, did we sing! That was definitely the best evening I had had in a long time.
Bamburi Nature Trail / Haller Park
On the morning of our last day, we went bike riding at the Bamburi Nature walk. You can bring your own bike or hire at the reception like we did. If you love nature walks then you can be sure to enjoy a ride on this trail. There are monkeys especially at the start, and If you are lucky, you get to bump into some more animals as you ride along.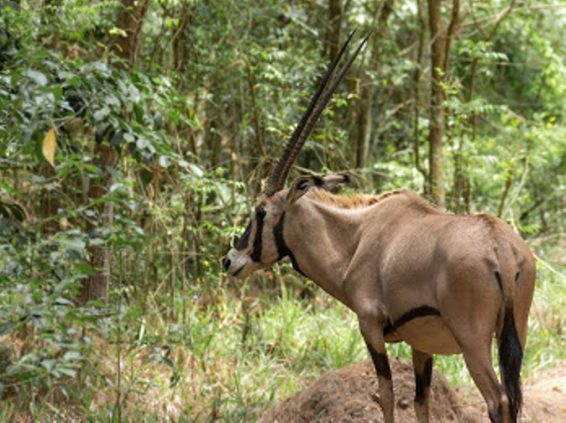 At some point on the trail, we found 2 Oryx standing on both sides of the road, like they were guarding their territory. Have you seen the HORNs on an Oryx? They wouldn't budge for quite a bit, so we stayed quiet and took a couple of shots, after which they just walked back into the bush. It looked like they were there just for the photos though! 😀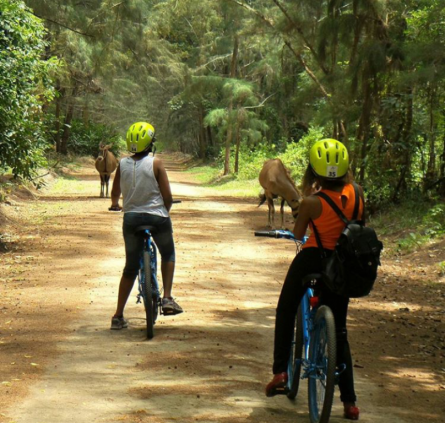 Another of my favorite spots on the trail was this stretch that had a natural canopy for quite a distance, and I was secretly happy when we missed a turn and had to ride through that stretch again. It was really beautiful! We had also planned to go to Haller Park but ran out of time. I've been there before so it was no loss really, but it is amazing so you should definitely visit if you haven't been.
4. The All inclusive accommodation package
All inclusive means that you can eat whatever you want, whenever you want, if you are choosing from the all-inclusive options at Voyager. It is very economical since you get your usual buffet breakfast, lunch  and dinner, teas, snacks and drinks as well as Pizzas and burgers with fries from Kaskazi restaurant. Perfect for travel with friends, family and especially kids.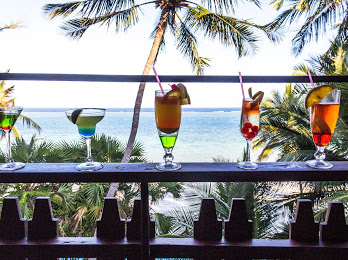 5. The Relaxation (Infinity) Pool, the Sports Pool and the Fun Pool.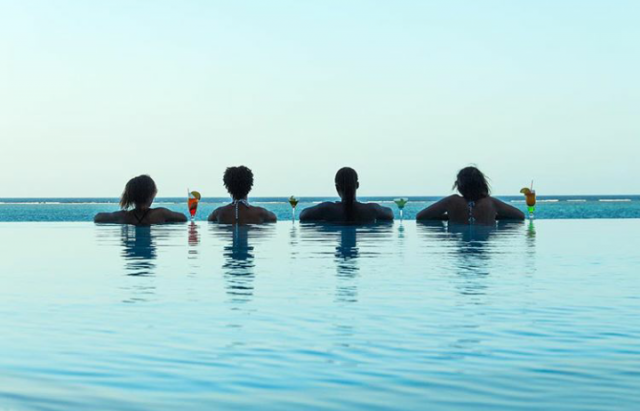 We spent the rest of the time either eating, or swimming, or by the beach, and it was overall a lovely stay. There are 3 swimming pools at Voyager, so you can swim at a different one time and still have enough days left to swim in the Indian Ocean. I spent quite a bit of time in the relaxation pool which overlooked the ocean, and was mostly quiet and serene compared to the other pools. The Swahili Lounge that is set right next to the sports pool was another spot I loved. It Is dubbed the 'stress free zone' and has swinging beds and couches where you can read a book, take a nap or really just marvel at the beauty all round.
Photography collection by Brian Gatimu (IG: @Bwathanga Twitter: @TheFlyingKenyan), Ndeithi Kariuki and myself @smartyannette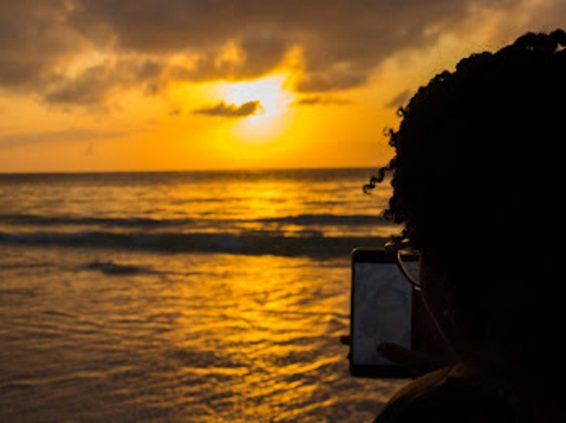 ***
If you ever feel that there's hardly ever enough time to travel because of your schedule, then maybe just 2 days off your busy schedule is all you need – so you can even model your travel around a weekend. When you stay at Voyager, do inquire about trips around Mombasa (especially the bike riding and the Sundowner cruise) as they can be arranged if you cover your expenses.
Have you visited any of the places above? Do let us know about your experience in the comments section below.