On Sunday last week, Kenyans woke to the news that Madonna was in the country. This was after she tweeted & Facebooked a "Good Morning Kenya" photo of countryside that looked distinctly Kenyan.
Good Morning Kenya! ?????. pic.twitter.com/GcXMq1LVmX

— Madonna (@Madonna) July 3, 2016
Kenyans online being their usual funny selves started asking whether she had come to adopt a child. @RonohKechem even offered Jimmy Gait for adoption, must have been due to his latest song " Yesu ndiye sponsor". 
Welcome to Kenya @Madonna since you flopped in your last child adoption we've decided to give you Jimmy Gait for adoption
Please take him!

— Kechem™ (@RonohKechem) July 4, 2016
Things to a turn for the worse when she tweeted a photo taken with Samburu morans where she indicated that she was in the Kikuyu Valley in Samburu. This is when KOT responded in not so kind words that there was no such thing as Kikuyu Valley in Samburu. Understandably geography was a boring subject to many as such the thinking was that she did not know what she was saying. 
With the Samburu tribe in the Kikuyu valley! ???????????????? Kenya! pic.twitter.com/d4Z7fazI4v

— Madonna (@Madonna) July 6, 2016
Here are some of the responses from KOT.
This is how Madonna ended up saying Samburu live in Kikuyu Valley; a place only in the imagination of her handler pic.twitter.com/peykyJKo4X

— Mr. B (@Benogola) July 7, 2016
@Madonna The whole tribe? That's all of them? And they are in what Valley again?

— Dan Aceda – Inua (@danaceda) July 6, 2016
@Madonna This post is now a subject of mockery as there is no known 'Kikuyu valley' & Samburus would scarcely be found there.

— Kariûki (@fkariuki) July 6, 2016
Teacher: Class who discovered Kikuyu Valley?
Class: @Madonna! pic.twitter.com/c4Pto5Er3I

— Mac Otani (@MacOtani) July 6, 2016
However, KOT have been forced to eat humble pie after it was revealed by William Mengo that there exists such a valley which is refered to as "Soito elKokoyo" which apparently translates to Valley of Kikuyu stones.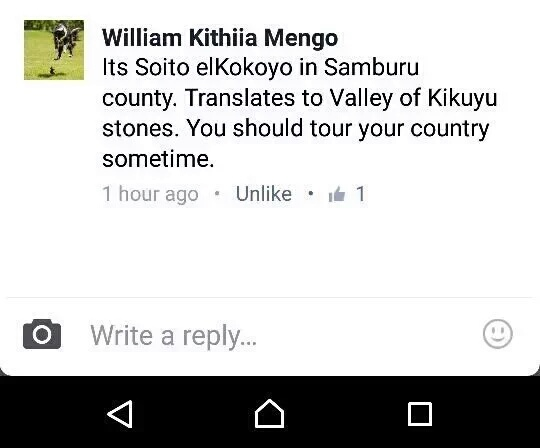 I may have to apologise to Madonna, turns out the place in Samburu is called Soito Elkokoyo which translates to Kikuyu Valley of Stones.

— Njeri Thande (@iamnjeeri) July 8, 2016
Heh – clearly – Madonna's team know their shit … And GHC/Geography were boring subjects and we never paid attention

— Social Experiment (@MediaMK) July 8, 2016
I hope this serves as a lesson to the keyboard warriors on the need to research before sending out tweets.
Our outrage about Madonna's post, which was unwarranted, exposed more about us than it did about the singer. We are the ignorant ones.

— M. (@Owaahh) July 8, 2016