It is often said that a lack of rules will lead to chaos/anarchy. So when rules are set it is expected that they will/should be followed more so by the individuals who set the rules. So I have to say that I was shocked and bewildered when the Appwiz Challenge by Safaricom seemed to fail to abide by the rules that they set themselves.
In case you are wondering what I am referring to let me break it down for you. The Safaricom Appwiz challenge is a partnership between Safaricom and Strathmore University. It aims at nurturing and mentoring ICT driven startups focused on mobile technology. The 3rd edition of this challenge was launched back in July this year. Part of  the terms and conditions of the challenge was a requirement that participants MUST be Kenyan citizens who are over 18 years old, participants must enter the challenge in groups of a maximum of three members.

The competition was finally concluded and winners announced on 1st December 2015 and Lynk were declared the overall winners and were the recipients of the 1.5 million prize. Lynk is a mobile solution that provides a platform for people in the informal sector to meet potential employers and seek employment opportunities. It is supposedly a creation of Adam Grunewald, Erick Obiero and Sharon Macharia. However a look at their Angel List page, Adam Grunewald and Johannes Degn who are non-Kenyans, are listed as the founders with Erick Obiero and Moses Ndungu listed as employees. Also note that Sharon Macharia is nowhere to be found because apparently she was fired as the competition was ongoing.
By the time Lynk won the challenge, Adam Grunewald and Johannes Degn were still listed on the Lynk site as founders with the Kenyans nowhere to be found. When they were challenged on this by @WanjikuClara they quickly updated their site to include the Kenyans though this time without their designation. Note that Sharon Macharia who is supposedly a co-founder is still nowhere to be found.
These guys seem to have been in such a hurry that they forgot to edit Johannes Degn's name from the company profile which they submitted to Safaricom.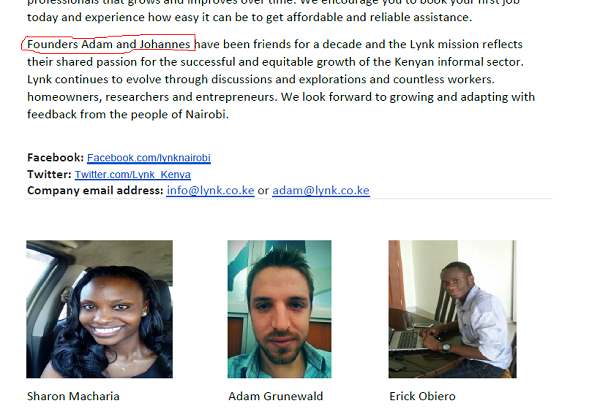 What is apparent is that Lynk clearly is not a Kenyan company for the purposes of the Safaricom Appwiz challenge and the Kenyans were only added later in a bid to make them eligible for the Safaricom competition. We reached out to Safaricom on this issue and they issued the following statement.
"In accordance with our stated regulations for the Appwiz competition, our judging panel was assured that two members of the company – Erick Obiero and Sharon Macharia – are Kenyan citizens. The company thus satisfied our requirements for participation in the competition. Safaricom remains keen to provide support to the growing innovation ecosystem in Kenya and it is our hope that our participation in these initiatives continues to benefit more emerging entrepreneurs." – Joe Ogutu, Director, Strategy and Innovation.
Going by the rules of the competition, these guys were not eligible to compete ab initio which makes their win null and void. Still under the terms and conditions number 5 it clearly states that "Safaricom  reserves the right to require participants to prove that they are eligible. If the winner of the grant is found to be ineligible, Safaricom reserves the right to award the grant to another participant and to require the return of any grant already awarded". It is our hope that Safaricom will do the right thing and award the rightful winners.