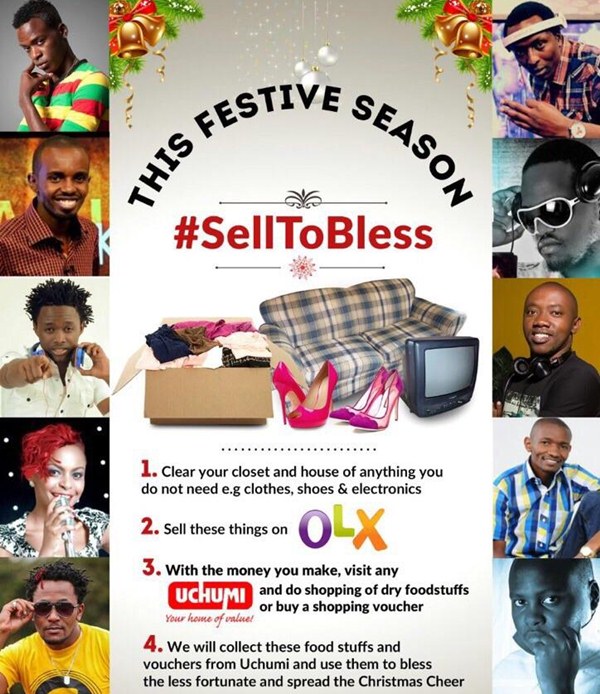 The festive season is here and there's no greater gift than the gift of giving. I know it sounds cliché but it's a reality that many need to accept. Giving to those less fortunate is a feeling you can't replicate. When you see a smile on their face it makes your holidays much brighter.
It's with this in mind that OLX and gospel artists have come together to launch the sell to bless campaign. The campaign aims to see people sell their unused goods on OLX and use the proceedings to buy dry food stuff from Uchumi supermarkets and donate to four needy children's homes.
Jackson Kamau aka DJ Soxxy who heads the campaign says, "It is more cheerful to bless someone with what they need than what they don't need. In the past, people have donated a lot of unnecessary stuff to needy homes just because they want to clear the clutter in their homes. That is why we came up with the idea to sell the stuff to someone who needs it through OLX and use the money to buy dry food stuff to needy homes".
In the past, people have always used the festive season as a time to be charitable and empty their clutter in donation boxes in church, office and supermarkets. Some of these things are never used by the children's homes as some clothes are too big and the shoes too high or small. OLX country manager says, "We see OLX as the solution because it is the only platform to sell the unused goods from homes to someone who needs it more. It is a win-win situation as the seller will de-clutter their homes by selling on OLX, while the needy children's homes will get their preferred donations in form of perishables and maybe toys too for the children".
To be part of spreading joy to others, all one has to do is:
Find items you do not use or need e.g. shoes, electronics, furniture
Sell the items on OLX
Use the proceeds to go to Uchumi and buy food stuffs and vouchers
Drop them at the sell to bless drop off points in all Uchumi supermarkets country wide
The items will be collected and donated to selected children's homes
The public will get a chance to nominate and vote for their preferred children's homes through live TV-shows on Sunday mornings and on social media. The gospel fraternity will visit the four selected children's homes and hold concerts to entertain the children while delivering donations from the public.
Some of the artists in the Sell to Bless Campaign are DkKwenye beat, Size 8, Willy Paul, Bahati, Djs Mo, Johnie Celeb, Sanch, Krowbar, Touch, Soxxy, Gee gee, Njugush, Kambua and many others. We will together visit the children's homes and do concerts, play games and interact with the children as we drop off the foodstuffs to them.
The campaign will run for a period of one month from 9th December, 2014 to 4th January, 2015.