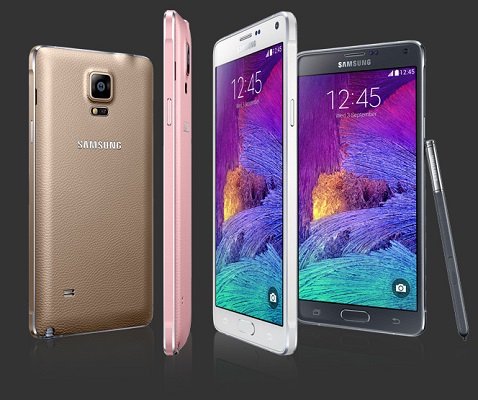 The Samsung Galaxy Note 4, touted as the most progressive mobile device on the market, is now available in Kenya. Blending an evolved S Pen as well as superior viewing, the Note 4 provides users with one of the most unique and powerful mobile experiences.
The Note 4 comes with some amazing features:
1. The display
The GALAXY Note 4 embraces Samsung's heritage of unrivaled Innovation. Its extraordinary 5.7-inch Quad HD (2560×1440) Super AMOLED display reproduces clearer and more vivid images with deep contrast, better viewing angles and response times as fast as a millionth of a second, providing viewing like no other.
2. Multitasking
Due to its large screen, the refined Multi Window feature is able to maximise users' experience providing them with the key to easier multi-tasking. Users can choose how they access their applications with full, split or pop-up screens and easily change the size and positioning of apps on the screen with one intuitive swipe.
3. 16MP Camera
The GALAXY Note 4 also sports an advanced camera that is able to reproduce brighter and clearer images. The device is equipped with a 16 megapixel rear-facing camera featuring a Smart Optical Image Stabilizer that counter-balances camera shake and automatically extends exposure time in dark settings. In addition, a 3.7 megapixel front-facing camera offers a default 90 degree shooting angle and up to 120 degree wide angle, so users can take the best group shots with friends.
4. Fast Charging
Another enhanced feature of the GALAXY Note 4 is the Fast Charging and Ultra Power Saving Mode, enabling charging from 0 to 50% in 31 minutes, ensuring that users don't run out of power when they need it most.
5. The new S pen
The new S Pen offers a much more authentic pen experience, with a more natural pen effect that perfectly emulates writing on paper. One has the option of either using fountain or calligraphy pen mode. The S Pen also introduces a more user-friendly Air Command functionalities along with other intuitive features such as Action Memo, Screen Write, Image Clip and Smart Select that allows users to create and collect content with ease. The new Smart Select feature enables consumers to easily piece together content from different origins and share it with ease.
6. Extra Features
It comes equipped with multiple microphones and an improved speaker phone for better noise cancellation when speaking in loud environments. A built-in Voice Recorder offers eight different directional voice tagging and a selective playback capability that allows users to isolate and listen to specific voices in a group conversation. It also offers an improved Fingerprint Scanner, to secure personal data and the world's first UV sensor in a mobile device.
The Note 4 is available in "Charcoal Black" and "Frost White" from Samsung Brand stores and authorized dealers' country wide. The Note 4 will retail at Ksh. 75,000.