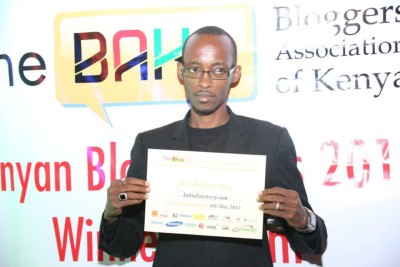 The Bloggers Association of Kenya (BAKE) has today unveiled the nominees for the BAKE Kenyan Blog Awards 2014. The Awards reward bloggers that post on a regular basis, have great and useful content presented in a creative and innovative format.
The nominees were selected by a panel of judges comprising of bloggers and media personalities.
The release of the nominees list begins the voting phase of the awards. Voting will run from 3rd March 2014 and end on April 30th 2014. You can vote for your favourite blogs through blogawards.co.ke/vote.
You can get more info on the awards via Facebook and throughTwitter by following the hashtag #BlogAwardsKE or email info@blogawards.co.ke
Here is a list of the nominees in the various categories.
1. Best Technology Blog
1. http://www.moseskemibaro.com/
2.http://emmanuelchenze.com/
3. http://techtrendske.wordpress.com/
4. http://techmoran.com/
5. http://www.kvrop.com/
2. Best Photography Blog
1. http://stevekitots.wordpress.com/
2. http://benkiruthi.com/blog3
3. http://mutuamatheka.co.ke/blog/
4. http://allangichigi.com/star/
5. http://www.gallerymichaelkhateli.blogspot.com
3. Best Creative Writing Blog
1. http://www.bikozulu.co.ke
2. http://www.mydeardoris.wordress.com
3. http://mkatenusu.wordpress.com/
4. http://www.donotfeedthebloggers.com
5. http://michaelngigi.wordpress.com
4. Best Business Blog
1. http://www.bankelele.co.ke/
2. http://sokodirectory.com/
3. http://www.kenyamanual.co.ke/
4. http://simplytakeaction.com/business/
5. http://inspiringgreatness001.wordpress.com
5. Best Food Blog
1. http://leotunapika.wordpress.com
2. http://healthylivingkenya.wordpress.com
3. http://happymealskenya.blogspot.com/
4. http://www.pikachakula.com
5. http://www.yummy.co.ke/
6. Best Environmental/Agricultural Blog
1. http://emmiekio.blogspot.com
2. http://rockesci.co.ke
3. http://www.panaac.org/blog
4. http://youngagrochampions.blogspot.com
5. http://www.farmingafrika.com
7. Best Fashion/Beauty/Hair/Style Blog
1. http://www.thisisess.com
2. http://www.kurlykichana.com
3. http://luciamusau.com/
4. http://www.ourstylekenya.com
5. http://nanciemwai.com/
8. Best Politics Blog
1. http://www.anjeru.com
2. http://kenopalo.com/
3. http://www.brainstorm.co.ke/
4. http://www.shitemi.com
9. Best New Blog
1. http://confessionsofayoungmummy.wordpress.com
2. http://www.magunga.com
3. http://www.tdsblog.com
4. http://kenyansnapshot.wordpress.com
5. http://www.wendywahito.com
10. Best Corporate Blog
1. http://crownpaints.co.ke/blog
2. http://www.olivia.co.ke/blog
3. http://storymojaafrica.wordpress.com
4. http://www.ihub.co.ke/blog
5. http://blog.batakenya.com
11. Best Topical Blog
1. http://www.mummytales.com
2. http://blog.inkedbiker.co.ke
3. http://blog.gigwapi.com
4. http://www.lizlenjo.com
5. http://datascience.co.ke
12. Best Sports Blog
1. http://futbolchiqa.wordpress.com
2. http://www.michezoafrika.com
3. http://www.superfoota.co.ke
4. http://www.ilfabiano.wordpress.com
5. http://www.futaa.com
13. Best Entertainment/Lifestyle Blog
1. http://www.ghafla.com
2. http://www.niaje.com
3. http://www.afritorial.com
4. http://owaahh.wordpress.com
5. http://actors.co.ke
14. Best Travel Blog
1. http://www.kenyatalii.com
2. http://www.safari254.com
3. http://www.hazelvint.com
4. http://ecotourismdemystified.com
15. Best Health Blog
1. http://fitnessmovementke.tumblr.com
2. http://wambuiwaithaka.com
3. http://strengtheninghealthsystems.wordpress.com
4. http://sitawa.blogspot.com
16. Best County Blog
1. http://uasingishudecides.wordpress.com
2. http://www.nairobicityguide.net
3. http://county-411.com/baringonews
4. http://www.mombasahub.net
5. http://www.amazingkisumu.co.ke/blogs
17. Kenyan Blog of the Year
1. http://mutuamatheka.co.ke/blog
2. http://mydeardoris.wordpress.com
3. http://bikozulu.co.ke
4. http://pikachakula.com
5. http://nanciemwai.com