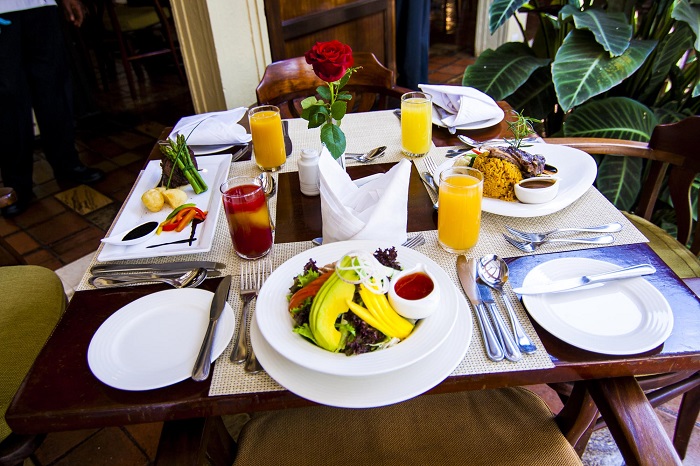 The inaugural Nairobi Restaurant Week is set to take place from 30th January – 6th February 2014. Fifty of Nairobi's finest restaurants came together for this occasion as a way to celebrate 50 years of independence. This will allow patron to enjoy prix fix (French for fixed price) menus at Kshs. 1250 and Kshs 1750.
Nairobi Restaurant Week is about applauding the finest food the city has to offer. The top chefs are putting their culinary skills to the test so that restaurant-goers can experience a one-off limited edition celebratory menu. It celebrates the ingenuity and innovation of our favorite local restaurants
Taking part in Nairobi Restaurant Week is simple. Patrons will simply visit any participating establishment as they normally would and order off the special menu. The menus will limited to the first 250 patrons at each outlet. While there is no need to pre-book, it is recommended and can be done directly with the establishments, by calling 0711 222 222 or by booking online at eatout.co.ke.

Nairobi Restaurant Week is organised by the team behind the Taste Awards and Heineken.
Restaurant Week is an event for food lovers that was started New York twenty two years ago. It has since grown, inspiring people from cities all over the world to put together their own version of the event.
Here is a list of the restaurants taking part and how much each menu in the establishment goes for.
Prix Fix menu's at Kshs. 1250 will be offered at:
360 Degrees Artisan Pizza – ABC Place, Westlands
About Thyme – Eldama Ravine Road, Westlands
Amaica Westlands – Getathuru, Westlands
Artisan @ Sankara – Sankara Hotel,Westlands
Anghiti Restaurant – New Rehema Hse, Rhapta Rd, Westlands
Anghiti Muthaiga – Muthaiga Mini Market, Muthaiga,
Black Gold Caf̩ РThe Panari Hotel, Mombasa Rd,
Brew Bristo Fine Dining – Piedmont Plaza, Ngong Rd
Emerald Garden – UN Avenue, Gigiri
Flame Tree At Panafric Hotel – Sarova Panafric, Valley Rd
Le Palanka – 909 James Gichuru Road, Lavington
Mediterraneo Gigiri – United Nation Ave, Gigiri
Monikos Restaurant – Valley Arcade (Off Gitanga Rd), Lavington
Oasis Restaurant – Southern Sun Hotel, Parklands Rd,
Oro Restaurant – Gem Suites, State House Crescent, Milimani
Pablos at Best Western – Best Western, Hurlingham
Que Pasa Bar & Bistro – Karen Shopping Centre, Karen
Royal Kitchen Pride Inn Hotel – Pride Inn hotel, Westlands
Sikia Fine Dining at Crowne Plaza – Crowne Plaza Hotel,Upper Hill
Shangrila Restaurant – Diamond Plaza New Wing,Parklands
Sierra Brasserie – Yaya Centre, Hurlingham
Tamambo Village Market – Village Market,Gigiri
Tamambo Blixen -336 Karen Road,Karen
Taste Of China – VIP Plaza, Westlands
Talisman – 320 Ngong Road,Karen
The Wine Shop and Bar at Brew Bistro – Piedmont Plaza, Ngong Rd
Vista Restaurant at Emerald Hotel – Emerald Hotel, Westlands
Zen Garden Bamboo – Lower Kabete Rd,Westlands
Muhibbah – Sankara Hotel, Westlands
Prix fix menu's at Kshs. 1750 will be offered at:
Fogo Gaucho – Viking Hse, Waiyaki Way, Westlands
Haandi Restaurant – The Mall, Westlands
Haveli Restaurant – Capital Center, Mombasa Rd, Nairobi
Jiko At Tribe hotel – Tribe Hotel, Village Market
La Dolce Vita – Muthaiga Shopping Ctr , Muthaiga
Lord Delamere @ Fairmont – Fairmont Norfolk, Harry Thuku Rd
Mandhari At Serena Hotel – Nairobi Serena Hotel, Kenyatta Ave
Mediterraneo Junction – The Junction Mall, Ngong Rd
Mediterraneo Nine West – 9 West Plaza, Ring Rd, Westlands
Phoenician Restaurant – The Junction Mall, Ngong Rd
Pampa Mombasa Rd – Panari Sky Centre, Mombasa rd
Pampa Lavington – Thompson Estate, Lavington
Seven Seafood & Grill – ABC Place, Westlands
Seven Grill & Lounge – Village Market,Gigiri
Thai Chi at Sarova Stanley -The Sarova Stanley, Kimathi St,CBD
Thorn Tree Cafe at Sarova Stanley – The Sarova Stanley, Kimathi St,CBD
Muhibbah – Sankara Hotel, Westlands
You can get more details of the Nairobi Restaurant Week by visiting their website nairobirestaurantweek.com and by following the conversations about the event on twitter through the hashtag #NRW2014.