Events in Kenya have had a sort of reawakening. People are thronging to events in droves and event organizers have responded by putting together even more events. For some time now there hasn't been a comprehensive events website in Kenya. Nairobi Now has tried but they post events haphazardly which means one can't view events by date.
That's where Gigwapi comes in. Gigwapi is a web listing for events that makes it easy for users to connect with the type of events they like. The events are grouped in dates and type which makes it easy for users to discover events.
We talked to Gigwapi's co-founder Kinyanjui Njonde to learn more about the startup.
How did the idea for your startup come about?
The idea stage was in early 2012 while still in campus. The initial idea was to list all the offers around various clubs and shops around the campus. In Early September, we got incubated at the Nailab with the same idea but after market research we had a pivot and started listing all events, and fun things to do in the country to cater for a growing need from the emerging middle class in the country.
What has been your biggest challenge so far?
Setting up a team. We started as 4 founders however 2 of them had to drop out due to personal and commitment issues, which meant we had to restructure and work extra hard. Getting the right and competent talent has been the biggest issue so far.
What has your startup achieved so far?
Currently we have launched the minimum viable product to the market and we have had a positive reception in the market both from our end users and event organizers. We are getting over 15,000 page views a month 5 months after launch with no marketing budget.
In four months of being in existence we had been invited and mentioned as a top 40 startup in Africa by Global innovation through science and technology (GIST). We also made it to the final round of the Pivot East 2013 completion. We were also invited as an exhibitor in the IST Delegate conference as Technology innovators.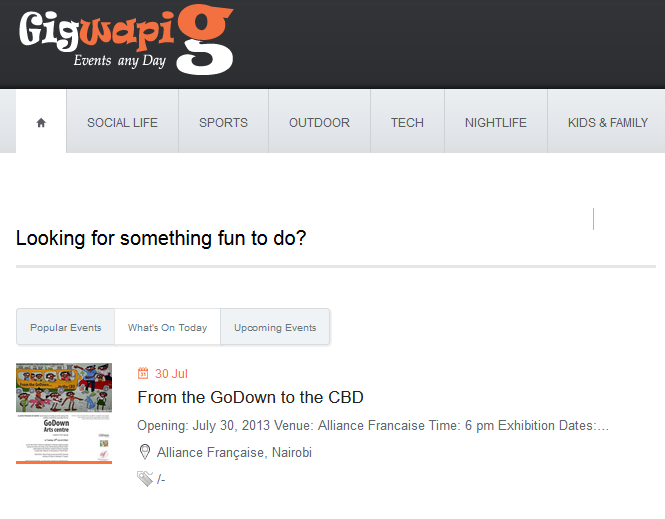 What has contributed to your success to this point?
When we began we set our true north and we had been true and committed to the cause. We also have received a lot of support from our mentor at the Nailab and families members who didn't really understand what we were doing in the beginning.
What made you choose entrepreneurship over employment?
I know its cliché to say this, but I have always wanted to do my own thing. Before this I was doing freelance IT support. All these combined with the 1000 CVs and application letters I had to send with no replies forced me into entrepreneurship
What are your thoughts on startups in Kenya?
Kenya being an emerging market makes it the right place and time to start or launch a startup that addresses or solves a problem using technology. The right strategy will get you noticed quickly and probably propagate your growth fast enough. At this stage is when you need to have the right team set up, a mentor to guiding you especially when dealing with investors and have business structures set up. At least for us, having all these thing have helped us avoid and deal with a lot of unknowns that have come our way.
Which key individuals have been of great help to your startup?
All the team members have been instrumental to our success. My co-founder Erick Waithaka, Trevor Mutune our product development, Aura Soothe our newest addition in the marketing department, Edwin Mbugua, helping on development on voluntary basis. Also, the priceless mentorship we have received from the Sam Gichuru and the Nailab team.
Going forward, what does your startup need?
What we need is strategic partnerships with event organizers, artists and basically influential people in the entertainment industry.
Check out Gigwapi.com and connect with them on Facebook and Twitter.