Investing in stock is a great way to diversify your financial portfolio. When you buy a stock, you purchase a small piece of the company which can be lucrative depending on the companies that are investing in.
Stocks can help you protect your money from inflation and taxes, build your savings and earn an income from your investments. However, the majority of us don't fully understand how to invest in stocks or simply don't have a lot of money to do it. For those looking to invest in stocks but don't know how to start, Hisa App has made it easy for you through fractional investing.
Hisa App is the first app to get the go-ahead from the Capital Markets Authority and Nairobi Securities Exchange to facilitate fractional investing. The Kenyan owned startup helps you buy small shares of Kenyan listed stocks, US stocks and ETFs directly from the comfort of your phone.
Hisa App was founded in 2020 by Erick Asuma, Eunice Nyawira and Eric Jackson. They also founded The Kenyan Wallstreet, a popular digital platform that provides business and financial news across the continent.
Their aim is to democratize the African retail investment space which has been an enigma for a long time. Through the app, you can invest in all your favourite companies in Kenya and US such as Apple, Microsoft, Safaricom and Equity.
How to set up an account on the Hisa App
The best part about the Hisa app is how easy it is to create an account and start investing. Here's a step-by-step guide:
Open the sidebar menu
Click Investor Profile
Fill in your personal information.
Fill in your address information.
Fill in your employment information.
Upload the required documents under the proof of identity section.
Finally, submit details to upload the information for verification.
You are required to submit some documents for verification purposes. This include.
copy of your ID or passport
copy of your KRA PIN
Profile photo
Once you have submitted the details, the verification process should take approximately 5 minutes and you should be ready to start if your documents are valid. After that, you should make a minimum investment deposit of $5 into your Hisa wallet using M-PESA or MasterCard/Visa card. This allows you to start investing.
How to buy shares
There's a tab at the bottom of the screen that says Invest. This is where all investments happen. You can select the available Kenyan stocks and the available American stocks in their respective tabs which are represented by an icon of the country's flag.
When you select a stock that you're interested in, you will be prompted to buy or sell. Choose the option you want and proceed.
You can also set the investment to take profit or stop loss.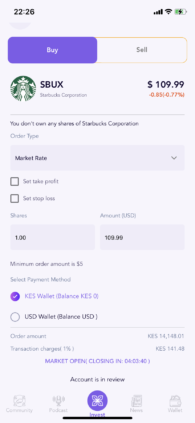 Apart from investing in stocks, Hisa App users can also follow other investors, read investment news, get market updates in real time, and learn from experts who can help make better investment choices. The founders have also stated that they are working towards adding government bonds to their platform.
In case of a complaint or enquiry, Hisa App prides itself in having one of the best customer success teams in the industry.  It has also been awarded the Best Mobile App For Stock Market at the 2021 and 2022 Mobile App Awards. You can download the app on Google Playstore or on the Apple App Store.