Dreadlocks are known as one of the most popular natural black hairstyles for men that can be styled virtually any way and look fantastic!
Why do guys like dreads and do so often dreadlocks in barbershops? Well, that's easily explained! Firstly, men love locks because of their practicality and uniqueness. Then dreads are attractive and epitomize a free and independent lifestyle. And of course, when it comes to locks, we all understand they are meant especially for black men and they are a great option for African American dry and frizzy hair type. So, those black men who rock dreads are really lucky and special guys!
However, creating dreadlocks isn't so simple things and it may take some time and effort, although the result is really worth it! The guys with dreads can easily convert them into different eye-catching braided hairstyles and below we've gathered the best haircuts for black men with braided dreadlocks.
African American Men Hairstyles – Best Braided Dreadlocks Ideas

Dreadlocked and Braided Mohawk with a Fade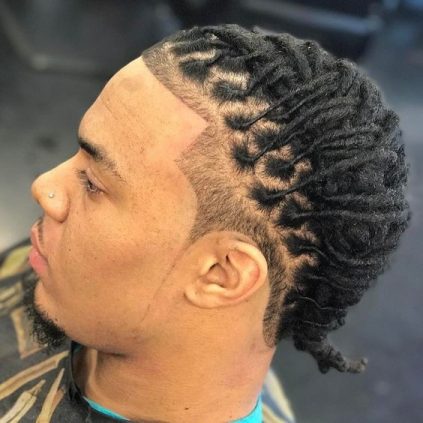 Who doesn't love a cool Mohawk? You just can add braided dreadlocks to this hairstyle because they offer you a tame look. You can also decide to do a low fade on the sides because this is a good way to make your look a bit rebellious.

Braided Locks in a Jumbo Bun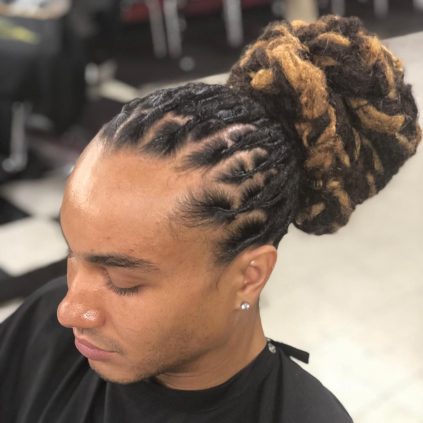 This style is rather simple – a big bun updo with braided dreads, but it looks really awesome, especially with ombre hair. Wrapping your braided dreads in a jumbo bun is exactly what you need to create this chic hairstyle. So easy and so stylish!
Hip Hop Haircut with Dreads and Braids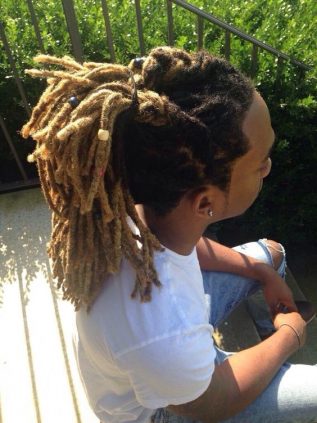 If you want to style your dreadlocks quickly and look trendy, you should try a hip hop version of the dreadlock hairstyle. Half braided locks tied into a high pony allow you to look amazing and hot and you need just several minutes to create such a playful image!
Braided Dread Fade Haircut for Long Hair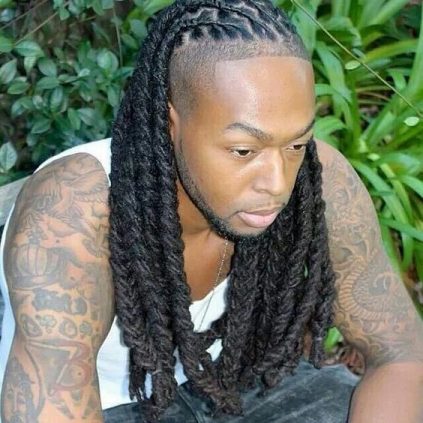 Pairing a fade with dreads is quite a common thing for short-haired guys. But as you see long, thick dreadlock braids can be also highlighted with a fade. A high bald fade offers a strong contrast for a bit classic dreadlock hairstyle and makes your look edgy.
Two-Toned Black Male Hair with Braided Dreads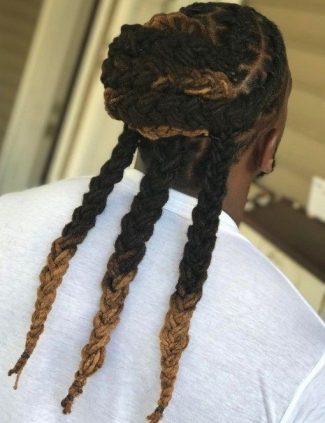 Don't forget that traditionally plaited braids, as well as two-toned hair, will never go out of fashion, so you can combine them with your favorite hairstyle and dreads. Just try to wear three neat and equally hanged down plaited braids and create a bun at the back of the head which will add volume the overall locks.
Remember, if you rock dreadlocks, you can experiment with your hairstyle as well as your look. Moreover, dreads allow you to express yourself in a unique and rather original way. Wear dreads to be different and bold, wear dreads to be cute and trendy!