Quite recently, Uber succumbed to the pressure of the drivers' strike, which caused them to increase their prices from the previous Ksh 200 minimum fare and Ksh 35 Ksh per kilometer, to Ksh 100 base fare, Ksh. 42 per km, Ksh. 3 per minute and a minimum fare of Ksh 300. While this is great news for drivers, it may be slight loss for customers. Uber isn't the only taxi application out there however, and all it takes is a little Wi-Fi to install Taxify, a cab hailing service that was launched mid last year, boasting competitive prices with Ksh 75 base fare, Ksh. 26 per kilometer, Ksh. 2.3 per minute and a minimum fare of Ksh. 250!  A taxi service isn't just about the pricing however, so below I compare the two taxi hailing services;
Price
With both, you can pay either by debit card or cash. Uber card payments in particular are simple, quick and convenient. Unfortunately, neither app caters for Mpesa, but you can still send money to the individual driver despite the disadvantage of transaction costs.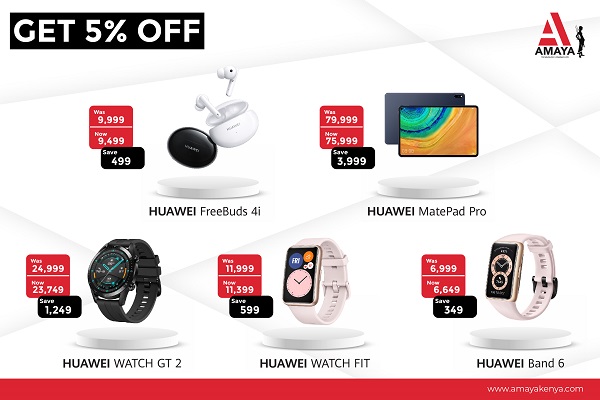 Each app charges based on base fare, price per kilometer, price per minute and a minimum fare notwithstanding how short the trip is. So far, especially with the price increments, Taxify beats it out for the most inexpensive service. I went further to check out the price estimates to different locations, the first being from Westlands to the CBD (3.2 km), the second from Westlands to Karen (26.6km).
Free Rides
It's superb when a taxi ride is cheap, it's even better when it's free. With Uber you get to enjoy free rides worth Ksh 500 as a first time user, when you invite a friend, or key in a promotion code. Taxify only allows you to enjoy a Ksh150 discount, which doesn't apply to first timers unfortunately.
The App (User Experience)
A few updates have been made to Uber's app to improve it's user experience, making it more convenient and simple than Taxify. While it doesn't take a rocket scientist to get the hang of it, Taxify is far less user friendly than Uber. It's much easier with Uber to key in the pickup location and destination. For a first time user on Taxify, doing this may take some time. Taxify only asks for your destination once you have requested a fare estimate, while Uber exposes everything to you (from the destination, pickup location and possible price) automatically.
Also, it amazing the way Uber has some cool features such as being able to tell where all their available taxis are from where you're located.
A positive for Taxify is that while requesting a taxi, you can see the charge rates slightly above the "request taxify" button (not to be confused with fare estimate) meaning that you tell what you'll pay per kilometre, per minute,  the minimum possible amount that you could be charged, and estimated arrival period.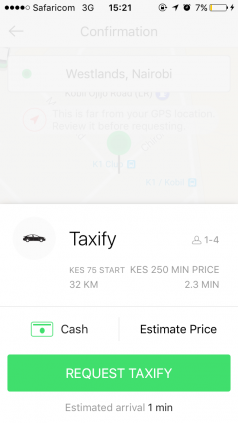 A negative of both is that customers cannot report complaints or suggestions directly by calling a number, but instead they have to send an email or disclose any issues on the social media pages. For aggrieved passengers these methods of communication may not provide satisfactory response rates.
The Ride
My experience on both Taxi services has been for the most part similar. However, I have found that cab drivers are faster to find your location and pick you up using Uber than Taxify. My first time on Taxify had me waiting at a mall for about 10 minutes with the driver calling me often, attempting to figure out where I was. Similarly, it took him several wrong turns and reverses to get to my destination. At least I can say that the service has low costs; an Uber driver with the same confusion would've probably caused me to pay double what I would've expected.
Despite that, drivers I've dealt with on both services have been kind and co-operative, at no time clashing with me, unlike some of the stories I've read on social media.
Reviews that other people gave online and on social media highlighted the lack of sufficient taxify cabs in Nairobi, the sudden overpricing of rides, disorganization of drivers, and long periods of time taken to collect passengers after they request.
Uber doesn't come without its own disadvantages; including some of the stories you hear about Uber rides gone wrong, people have also reported cases of unreasonable overpricing, and issues concerning drivers who refuse to cancel the trip on their end.
Uber and Taxify Pros and Cons
Uber Pros: user friendly, good customer service, integrated Billing & Payments, Drive Etiquette, vehicles in good shape, large number of cars and availability around Nairobi area.
Uber Cons: price surges and increments, no integrated mobile money payments, lack of quick and efficient communication sources to report concerns or compliments.
Taxify Pros:cheaper than Uber, integrated Billing & Payments, vehicles in good shape, no price surges, fairly good customer service.
Taxify Cons: Small Number of Taxis Limits Availability, no integrated mobile money payments, slow(er) Response Times, Poor Driver Etiquette, lack of quick and efficient communication sources to report concerns or compliments.