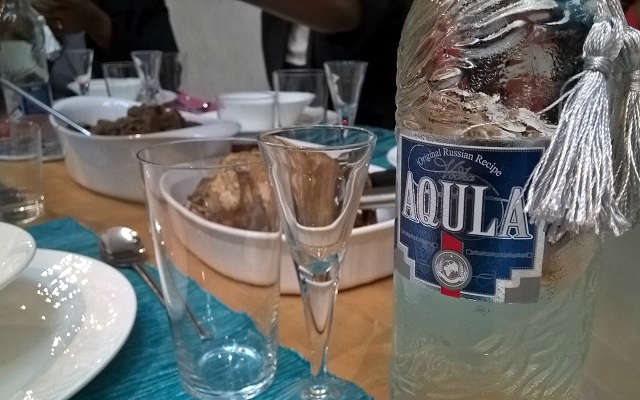 If there's one thing Russians are known for is Vodka, so when we got an invite to a dinner hosted by Aqula vodka we knew we were up for a genuine Russian experience. AQULA vodka invokes ancient Russian recipes and distillation practices and combines this with the purest of water to create an incredibly smooth, great-tasting vodka with remarkable body and character. But that's just the tip of the iceberg. Here are 7 Things you should know about Aqula Vodka.
1. AQULA is distilled and bottled in Russia
It aint Russian vodka if it ain't made in Russia, aint it? *Quite a tongue twister there* 😉 But seriously, what says Russian vodka more than the fact that Aqula vodka is distilled and bottled in * you guessed it* Russia.
2. It is made from an original Russian recipe by Katya who was born in Russia
I think this one is self explanatory.
3. It is grain vodka, which is considered higher quality unlike potato vodka
Vodka is made by the distillation of fermented substances such as grains, potatoes, or sometimes fruits or sugar.
4. It is marketed and distributed Maxam Kenya
5. It is available on BoozeDuka, and Nakumatt
Order online at http://boozeduka.com/index.php?main_page=index&cPath=99&search=aqula
Or directly from the site: http://www.aqulavodka.com/#!order/c1et
6. It comes in two sizes the 500ml and 250ml
7. Aqula has 4 signature cocktails:
AQULA Dawa,
AQULA tea,
AQULA red,
AQULA passion