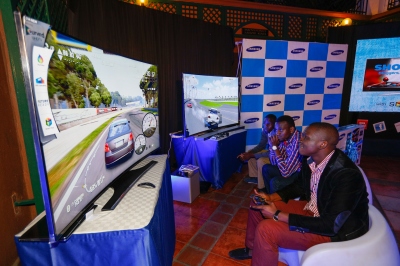 Samsung is predicting an increase in the uptake of connected televisions in the country, propelled by a growing middle class. Though still a budding category in the television market globally, smart televisions will lead this growth in the country.
According to Robert Ngeru, Vice President and COO, Samsung Electronics in East and Central Africa, the global electronics manufacturer is projecting growth in the year 2015 for its high-end televisions. Currently Samsung tops the televisions market with over 40% market share.
Smart TVs are defined as sets that come integrated with internet capability. Apart from offering traditional broadcast content, smart TVs also enable the user access Internet TV, on-demand streaming media and home networking access.
The latest Communications Authority quarterly report shows that the country's number of internet users is estimated to be 22.3 million. This is largely driven by increase access to internet due to the laying of fibre optic and use of mobile devices. The fixed fibre optic internet subscriptions have grown by 19.2% compared to a previous period last year. This is the market Samsung Electronics is banking on for the growth of smart TVs.
"We have already started encouraging more Kenyans to take-up smart TVs through partnerships with telecommunications service providers. For instance, we are giving away free Safaricom 3G dongles with every purchase of a smart TV," added Mr. Ngeru
Mr. Ngeru was speaking during the awarding ceremony for the winner of the second edition of the Samsung Blogger Monthly Challenge. Magunga Williams of magunga.com battled it out with three other bloggers taking top honours in the October/November challenge where they were required to generate content after using a smart TV.
The contest is part of the multinational's effort to support the growth of local online content. Over the four week period, the contestants were tested on four challenges; Get your Game On!; App Grade Your TV; Sharing is Caring; and Smart is the new Sexy.
The overall winner walked away with two smart televisions, one for their stellar efforts and the other to give to their online community.