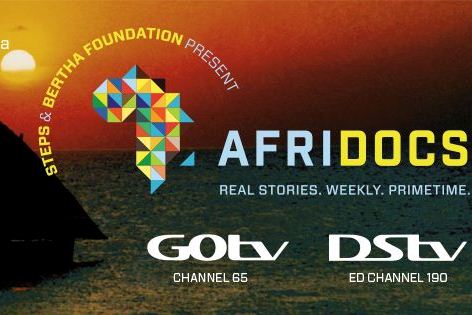 A world first will be taking place this month when a full week of African documentary films are broadcast across sub-Saharan Africa on DStv channel ED (channel 190) and GOtv (channel 65).
This unique film event dubbed "The AfriDocs Film Week" will see a diverse range of films screened across 49 countries of sub-Saharan Africa. All this will coincide with the Durban International Film Festival, the largest film festival in South Africa that takes place from July 17th – 27th.
"So many documentary films have been shot in Africa, but very few have been seen by African audiences", says AfriDocs Executive Producer Don Edkins from Steps in Cape Town, "this heralds a new era of distribution for the continent."
The AfriDocs Film Week will feature documentary films from thirteen countries in Africa – D.R.C., Kenya, Liberia, Mali, Mozambique, Niger, Rwanda, Senegal, South Africa, South Sudan, Tanzania, Uganda, Zambia.
Five of the films screening at the Durban Film Festival (DIFF) will also be part of the programme, including the award-winning Miners Shot Down, Concerning Violence, I Afrikaner, The Irresistible Rise of Moise Katumbi and Soft Vengeance.
For the full programme schedule and synopses of the films, can be found here: afridocs.net or facebook.com/AfriDocs.