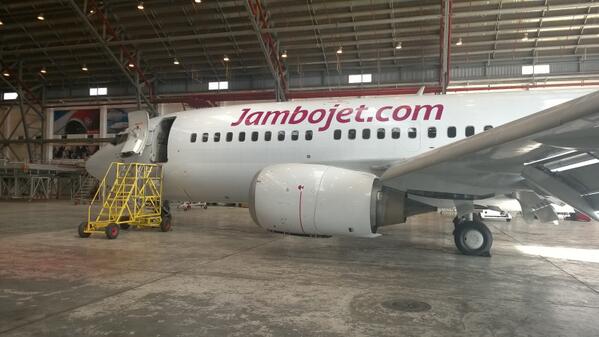 Jambojet, a low cost subsidiary of the national carrier – Kenya Airways, takes to the skies on April 1st 2014 in a move that has been of keen interest to both potential clients and KQ's competitors alike. With Kenyan transport sector undergoing a flurry of developments in the recent past, the entry of Jambojet is likely to play a major role in influencing travel patterns especially against the backdrop of the on and off night travel ban.
Jambojet is set to target first time fliers with air fares for some flights set as low as Ksh 2,850. This will surely have premium bus companies and other low cost airlines scratching their heads in a bid to protect their market share and stay in business in the long run. Jambojet hopes to keep its costs of operation low by outsourcing some of its operational service requirements and leasing of aircraft from its parent company Kenya Airways.

As Jambojet prepares to begin operations, here is a list of ten things you might not have known about the flight service.
1. Citizens of Kenya only need an ID card or valid driving license to fly domestically. If you are a citizen of another nation, you will be required to bring your passport.
2. Jambojet is a point-to-point carrier and therefore does not offer any flight connections on either their own network or on another airline's network
3. Jambojet will operate a fleet of Boeing 737-300s. The 737 -300 is not only more fuel efficient, but is also less harmful to our beloved environment in terms of carbon emissions.
4. Jambojet will fly to Kisumu, Nairobi, Mombasa and Eldoret.
5. They will operate two Boeing B737s that will carry about 142 passengers per class compared to KQ which carries around 160 passengers on two separate classes.
6. All passengers are restricted to 2 checked in (hold) bags with a maximum weight of 64kgs and 1 piece of hand luggage with a maximum weight of 10kgs.
7. There will be a full in-flight snack menu to keep passengers refreshed on board flights but travellers will be required to pay for the refreshments on board. Drinks and a selection of sweet and savory snacks will be available at a cost.
8. They offer special service request to physically challenged, blind, deaf or mentally challenged, unaccompanied minors and pregnant passengers.
9. Every flight has various price categories. The timing of the booking and the number of available seats determine the price category that is available for the flight passengers select. This may change very rapidly due to a number of factors such as booking cancellation or non-payment of a confirmed booking. Passengers are therefore advised to plan their journey and book early to get the best possible rates.
10. Changing your booking to a lower fare is not possible.
Update
1. JamboJet will start with 2 B737-300s with an extra one as backup.
2. The B737-300 seats 116 passengers.
3. The B737-300 is fuel efficient when compared to older models like the MD80 or B737-200.