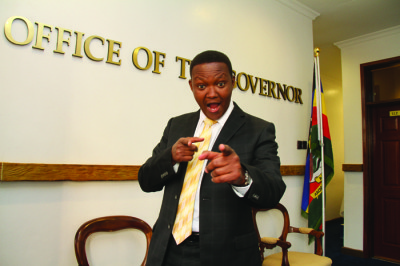 March 4th 2013, saw Kenya elect 47 governors to govern their counties. It was all about finally giving attention to the grassroots. 11 months down the line, people are asking, "what has my governor done so far?"
When you talk of achievements by Governors, one name comes to mind, Dr. Alfred Mutua, Governor of Machakos county. He might not be the best, but he is the threshold that most of us use to measuere other governors by. Machakos county has been in the news of late for good reasons, and he is the man behind it.
So what exactly has he achieved so far? Here is a breakdown of the list
Unveiled State of the art Machakos people's park
The park has a mini golf course, water fountains, children's play ground and a swimming pool under construction in the 40-acre piece of land overlooking Maruba dam. With floodlights and CCTV cameras, the Machakos government said the park is safe and will be opening from 10am to 8pm daily.
The Machakos people's park is also home to Africa's first outdoor amphitheatre.
Launched Machawood and funds film makers
Governor Mutua has always been known for his love of the arts and entertainment. His reign as governor was bound to result in a project related to it. The launch of Machawood was therefore not a surprise to many.
Machawood The center's main mandate will be to make Machakos county the premiere location for entertainment in Kenya and the continent as a whole.
Established a comprehensive security program and emergency program
Machakos has received 200 new police cars and procured 1000 ambulances. All this is thanks to the work of Governor Mutua.
Working 24 hour cctv surveillance all over Machakos have also been installed.
Water Harvesting project

Under the new governor, a clean water piping project for every home in Machakos has started.
County Bursaries project
The Ksh.80M fund is going to benefit orphans, bright and talented students and vulnerable children in the County. Each of the 40 County Wards will receive Ksh.2M.
The county also provides 20 million for women in every ward.
These are just but a few of the things Dr. Alfred Mutua has achieved. It's a great start, and we hope the trend will continue. Hopefully, the county will be able to sustain the projects and lead the other counties towards achieving greatness.