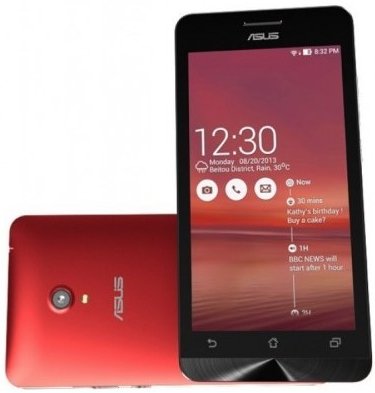 Asus is well known for its work in PCs and Android tablets. But the company has been increasingly turning its attention to smartphones. The company tested the water with the PadFOne, a two-in-one smartphone that slots into a 10″ tablet, and the FonePad, a 7″ phablet with a large touch screen and call capabilities. Being confident in their work, Asus took a leap at CES 2014 and unveiled a range of standard Android smartphones comprising the the ZenFone 4, ZenFone 5 and ZenFone 6.
The ZenFone range is a pretty standard smartphone line, sporting none of the shape-shifting concepts that Asus has so far stuck to. There are three models—the ZenFone 4, ZenFone 5 and ZenFone 6—and in each case the number corresponds to the handset's screen size in inches.
In all three models Asus has opted for Intel chipsets. While all 3 are amazing phones, the Zenfone 6 is the one that draws attention the most.
The Zenfone 6 has a plastic rear and comes in red and gold as well as the more standard black or white. It uses a lower resolution screen than it's rivals which is why it has a low price range compared to them. Despite being six inches across, the phone has a 720p display, rather than a Full HD one. The text looks a little bit softer than it would on a 1080p screen but it still works well for the phone. The IPS display provides decent image quality for a low-cost phone with good viewing angles and OK colour reproduction.
The Zenfone 6 uses an Intel Atom processor. It's the same one used in the Zenfone 5, a 2GHz dual-core Z2580 chip. This is a chip first seen in the Lenovo K900 back in 2013, and rarely used since, but it provides good performance.
Its main sensor is a 13-megapixel model rather than an 8-megapixel one. One of the main software features of the new Zenfone phones is the software's ability to downgrade the camera's resolution to improve low-light performance. This involves virtually grouping together sensor pixels to create virtual, larger sensor pixels. The Asus Zenfone 6 also has an LED flash and a 2-megapixel front camera.
The handset has the ability to use any pen or pencil as stylus, and you can even use the phone while wearing gloves. The phone only comes with 8 or 16GB of storage, though you can expand the memory with microSD, adding up to an additional 64GB.
As far as 6inch phones go, the Asus Zenfone 6 is one great device. One can only hope it maintains it's low price range once it hits the Kenyan market.