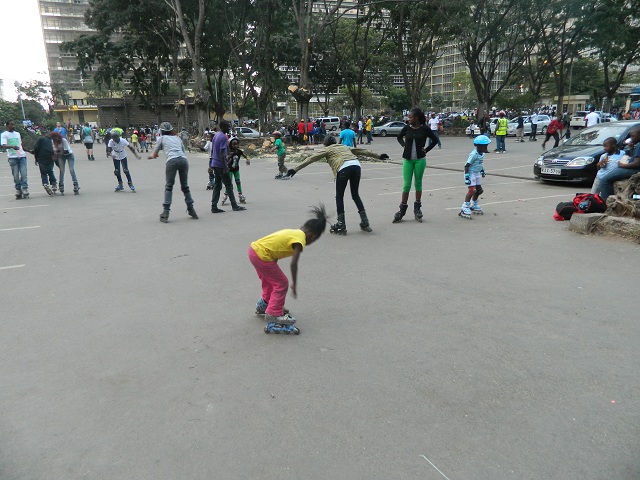 It's been a while since I was in town on a Sunday. Yesterday I happen to be meeting some friends around Aga Khan walk and I happen to stumble upon something I never knew existed. Here we were seeking parking space but the parking lot was taken for the day by individuals and groups skating. I came to learn that it was nothing new but couldn't help but ask myself why I had never heard about this. Was it lack of exposure or plain old ignorance.
Apparently every Sunday and on public holidays, you have a chance to hire some wheels or a board and enjoy some skateboarding and skating at the Sunken Car Park on Aga Khan Walk in Nairobi. This will cost you about 300 per hour, inclusive of hiring and lessons as I was told by Joakim Bwana, aka Joe, who's among the people who've made it a business venture. He explained to me how they've been running this for almost 3 years!
The ages range from 5 years to as old as can be.
I did some research online and realized that it was just my ignorance as there have been several articles written about skating and skateboarding in Kenya including the existence of a Skating club and the Kenyan Society of Skateboarding. There are even skate hockey teams!
For me this is an opportunity not explored to it's full potential. There is the possibility of creating an extreme sports culture in Kenya like the X Games in the States. There are young people who are really talented, as I saw for myself, and it is possible to add new colors to Kenya's picture from being perceived as just being good in athletics. The list is endless and I hope someone reading this sees the potential in this new X Games generation.
Below is a video about Skateboarding in Kenya by the Skateboarding Society of Kenya and more pictures.