I once had a supporting role in a Kenyan TV series. This was different because usually I was a crew member. After a month's work, everyone was due to be paid. Unfortunately, I was not paid in the first month with the producer citing a lack of money. She said that there was only enough money to pay the main acts and crew. Halfway into the second month I prodded the production manager to release my pay and after a lot of back and forth, I was paid and my character was killed in the next episode. The rest of team continued with the TV show and were paid part of the money they were owed in late 2015 and the balance was paid two months ago. A friend I invited to be an extra in the show was never paid. The money due to her was not that much and she let it go.
This experience was brought to mind by Gilbert Lukalia who asked, in a Facebook update, those work in the Kenyan film industry to name, shame and blacklist companies and agencies that do not pay their cast and crew.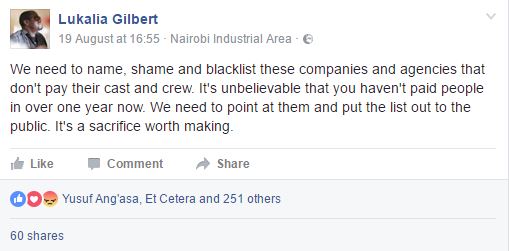 His update opened a can of worms and disgruntled cast and crew members expressed their frustrations with various companies. Several production houses like Zamaradi Productions Limted , Furet Films, Media Vision Limited, Avidex Africa Productions and Lila Productions were mentioned by actors and crew members who have worked with them.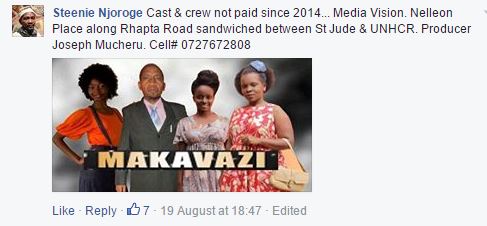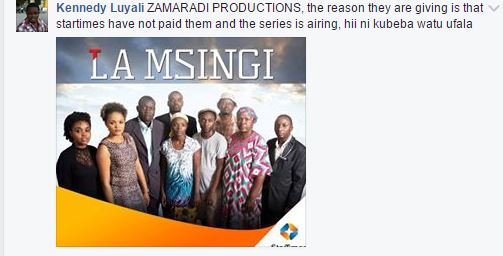 Furet films you are still holding my money for work I did over a year ago. Artists have bills to pay too. #payartistske

— Halloween baby (@helenawaithera) August 20, 2016
The broadcasters
A production company can either be commissioned by a broadcaster to produce a show or the former provides a budget and approaches the latter for funding. In the first case, where a production company is commissioned,  the broadcaster provides the funds required to produce a show. How and when the said funds are released is agreeable between the broadcaster and producer. The production company then hires a team, both cast and crew and the works begins. Production can begin with 50% of the total budget, then another 20% is released after a given period and the final 30% after the submission and approval of episodes (a show). All this is dependent on the two parties working together. However, there is a lot of variation with the contract. Sometimes the funds are delayed and the production company can choose to source for funds to be paid when the broadcaster releases the next batch of money. Others may opt to halt production till the funds are released. Working with trust, many producers will go for the first option because time is saved and it is better if the momentum of the job is kept up till the end of the production.
Any delay in payment by the broadcaster trickles down to the team on the ground. The production company faces a conundrum of requiring the team to continue working with no pay and deadlines set by the broadcaster. Cycles of payment vary; either monthly despite amount of work put in, per episode or in installments, a deposit at the beginning of production and the rest of is settled at the end of season. The amount is negotiated by each team member (or their manager). Whether the team decides to continue with the work despite delayed funds is again dependent on the working relationship (current and previous) with the production company.
I reached out to actor and producer Lizz Njagah who together with filmmaker and husband Alex Konstantaras, own Historia Films that has produced shows like House of Lungula and Funda-mentals. Lizz Njagah has experienced both sides of the coin having been an actor and producer. She explains how it works at Historia Films "We work with the budgets we have and we are honest about them. This has enabled us to pay people on time and whatever we agreed on during the signing of the contract. There was only one instance we delayed by a month because we were waiting for some money from a network but we kept everyone updated throughout the whole month and everyone understood." The team, in most instances, issues checks on the last day of production. This Lizz says is made possible because they raise the money way before the production has started. She insists that the key is to ensure that there is constant communication with your people updating them on the progress of the payment process.
The cast and crew member's role
Cast and crew member also have the responsibility of requesting for a contract if one is not offered upfront. When one is offered, many will rush to check to the payment section for the amount and payment period and skip the terms and conditions that apply. Also, many forego asking for their copy of the contract. It is even better if a lawyer reviews the contract and advises on any loopholes and where terms can be better. This is the case with many top actors in Kenya. When there is a job opportunity, they let their manager and lawyer handle the details of the contract. Once they find common ground, the actor signs the contract and show up to work.
Many dread the 'blacklist'
Lack of work leads many to take up jobs without negotiating and presenting their rules of engagement. Sometimes, it is the fear of being 'blacklisted' by a production company that stop some from seeking resolution when their contract is breached. This has happened before, where a cast and crew member is not hired because they are considered 'hard headed' or 'divas'. In an interesting twist the said 'hard headed' actors get good projects with favourable contracts because they have made that a requirement before they can offer their services. In other words, they know their worth and are willing to play hardball.
Cast and crew who do not hold their end of the bargain jeopardize their chances of getting work. Lack of punctuality to work, actors' unpreparedness or crew slacking in their work are just a few reasons why one may be left out of future projects. Actor and Radio presenter Andrew Muthure contributes to the issue through his comment on the post.

In a case of self-sabotage, an actor or crew member may go ahead and work with a company that is known for being dubious. This gives rogue producers the upper hand because they know that they will always get actors willing to work for less with the promise of exposure and opportunities in the future. If all actors and cast members decided to boycott fishy production companies then the latter would have to shape up or ship out. Whether this means walking away from projects but keeping your dignity and value as a professional, then it is worth the risk. As Lizz Njagah puts it, "It is a symbiotic relationship. The producer needs the actor and the actor needs the producer. Don't let them treat you like they are doing you a favour. Above all know your worth. If someone has a history of not paying, don't go and work for them then start complaining left right and centre. Work for them knowing what you are getting yourself into. Just because we love our jobs doesn't mean we don't need to get paid to do them."
Way forward
Lukalia's decision to initiate this conversation is a step in the right direction but a long way from a home. We need to move from a state of working with apathy.
Anyone working in the film industry in Kenya needs to do the following:
Join associations like the Kenya Actors' guild where grievances like lack of payment for work done can be taken up.
Acquaint themselves with labour laws and laws that govern the film industry in Kenya.
Keep abreast with trends in the industry.
Research on how film industries in other countries work.
Let it be known that you are the cast and crew member who goes above and beyond for their job and in return they expect nothing but the best treatment.
If every stakeholder in the film industry conducts themselves as they should then situations  such as what we are hearing can be avoided.
As for now, all aggrieved cast and crew members have been called upon to send the name of the project, Production Company, network where the project is/was aired and amount due to kenyaactorsguild@gmail.com or inbox Gilbert Lukalia on Facebook.