To try and get an idea of the website visiting habits of Kenyans online, I recently checked out the Kenyan top 500 most visited websites list at website ranking service Alexa.
Among the insights the data provided are:
A. Most websites in Kenya are largely International
The top 500 websites list in Kenya is dominated by International websites. The International websites are 382 (76%) as compared to Kenyan owned websites at 118 (24%).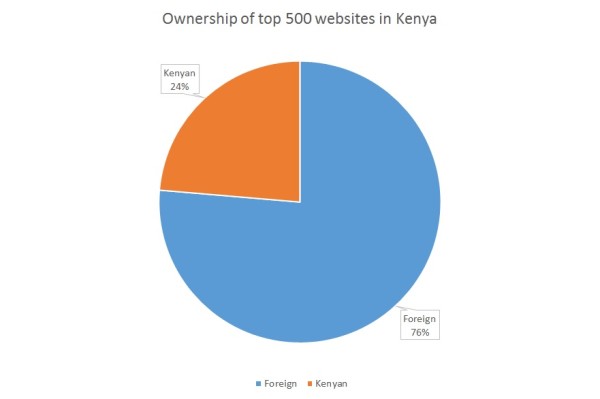 B. Top 10 Kenyan websites
Foreign websites also dominated the top 10 most visited websites list.
Google.com
Facebook.com
Yahoo.com
Youtube.com
Google.co.ke
Ask.com
Twitter.com
Citizentv.co.ke
Standardmedia.co.ke
Nation.co.ke
C. Kenyan blogs are popular in the Kenyan online space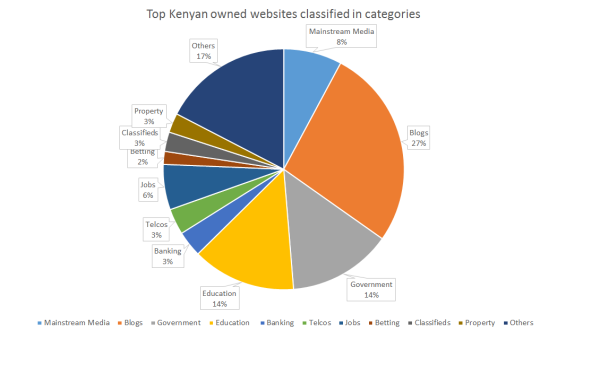 Kenyan blogs dominate the list of top Kenyan owned websites with 31 entries which comes to 27%. The top blog list is dominated by entertainment and gossip blogs.
The top Kenyan blogs are below
kenyan-post.com
ghafla.co.ke
nairobiwire.com
tuko.co.ke
niaje.com
mpasho.co.ke
kenyans.co.ke
techweez.com
bizna.co.ke
techmoran.com
theafricanewspost.com
nairobigossips.com
hapakenya.com
futaa.com
kenya-today.com
potentash.com
brostalk.com
hekaheka.com
Nyumbanitv.com
Kasanews.com
Kachwanya.com
naibuzz.com
Kenyayote.com
Mobitrends.co.ke
Politics.co.ke
Trendingpost.co.ke
Soka.co.ke
Bikozulu.co.ke
Lovelykenya.co.ke
Enews.co.ke
News-kenya.com
D. Domains top Kenyan websites use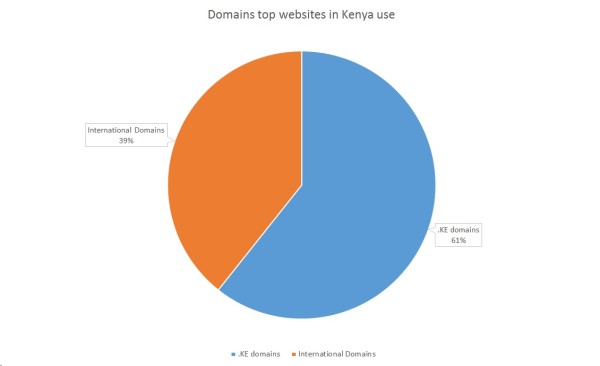 The top websites in Kenya prefer the .KE domain with 71 (61%) websites using it against 46 (39%) for international domains. Government agencies and education institutions lead in .KE domains usage while blogs lead in the International domain usage.
E. Website of note
somalidocs.com is at no. 466 in Kenya. What is notable about is that it's a niche website that mostly targets the Somali community but still managed to be popular.
F. Top Kenyan owned websites
The top Kenyan owned websites are as below:
citizentv.co.ke
standardmedia.co.ke
nation.co.ke
jumia.co.ke
kra.go.ke
sportpesa.com
safaricom.com
olx.co.ke
brightermonday.co.ke
kenyan-post.com
sde.co.ke
kenyamoja.com
careerpointkenya.co.ke
the-star.co.ke
helb.co.ke
ecitizen.go.ke
ghafla.co.ke
nairobinews.co.ke
safaricom.co.ke
tsc.go.ke
ku.ac.ke
uonbi.ac.ke
nairobiwire.com
mu.ac.ke
capitalfm.co.ke
kenyancareer.com
tuko.co.ke
softkenya.com
niaje.com
mpasho.co.ke
pigiame.co.ke
elitebetkenya.com
teachersonline.go.ke
kenyaplex.com
eacdirectory.co.ke
jobwebkenya.com
kenyabuzz.com
kcbbankgroup.com
lamudi.co.ke
mku.ac.ke
nhif.or.ke
cheki.co.ke
kenyalaw.org
kilimall.co.ke
kenic.or.ke
kenyans.co.ke
kenya-airways.com
rupu.co.ke
techweez.com
bizna.co.ke
techmoran.com
orange.co.ke
theafricanewspost.com
equitybankgroup.com
jkuat.ac.ke
nairobigossips.com
hapakenya.com
property24.co.ke
treasury.go.ke
maseno.ac.ke
wazua.co.ke
futaa.com
judiciary.go.ke
n-soko.com
kenya-today.com
potentash.com
kaymu.co.ke
bake.co.ke
buyrentkenya.com
brostalk.com
newkenyanjobs.com
jambojet.com
hekaheka.com
revenue.go.ke
autobazaar.co.ke
kenyanvacancies.com
Yellowpageskenya.com
Knec.ac.ke
Nyumbanitv.com
Kemu.ac.ke
safarimasaimara.com
Mmust.ac.ke
Kasanews.com
Egerton.ac.ke
Studyinkenya.co.ke
Strathmore.edu
Kachwanya.com
naibuzz.com
zuku.co.ke
Kenyayote.com
Mobitrends.co.ke
Kca.ac.ke
Knec-portal.ac.ke
Migrationkenyasafaris.com
Politics.co.ke
Tukenya.ac.ke
Sungura.co.ke
Theeastafrican.co.ke
Co-opbank.co.ke
Trendingpost.co.ke
Soka.co.ke
Centralbank.go.ke
Usiu.ac.ke
Cbagroup.com
Businesslist.co.ke
Kpa.co.ke
Ntsa.go.ke
Bikozulu.co.ke
Plan-international-kenya.org
m-pesa.com
Careerjet.co.ke
Lovelykenya.co.ke
Pesapal.com
Nationmedia.com
Uoeld.ac.ke
Enews.co.ke
News-kenya.com