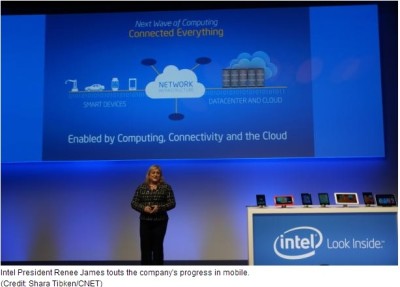 During a press conference at the Mobile World Congress in Barcelona Spain, Intel announced the launch of the 64-bit Intel Atom processor under the LTE advanced communications platform. It also disclosed agreements with Asus, Lenovo and Foxconn to develop mobile devices that run on Intel chips.
The processor which is targeted for smartphones and tablets, offers an ideal combination of fast, smart performance and long battery life for the said devices.
Speaking during the launch, Renee James Intel Corporation president said: "The continued growth of the mobile ecosystem depends on solving tough computing challenges–unlocking data's potential while securely and reliably connecting billions of devices with leading edge computing and communications technologies,"
The chip is 64-bit, which runs at 2.13GHz thereby allowing for faster processing. Based on the Intel's 22 nanometer, the chip is the first-according to Intel-that features new "Intel Integrated Sensor Solution"
The company also hinted about its next–generation 64-bit processor codenamed Moorefield.
The chip is aimed at devices expected in the second half of the year. It carries on Merrifield by adding two additional cores for up to 2.3 GHz of computing performance.
Intel also took the opportunity to reveal a full featured mobile security app for android named MacAfee mobile security. The app comprises a web filtering, app protection antivirus, anti theft features, data backup and call/SMS features.