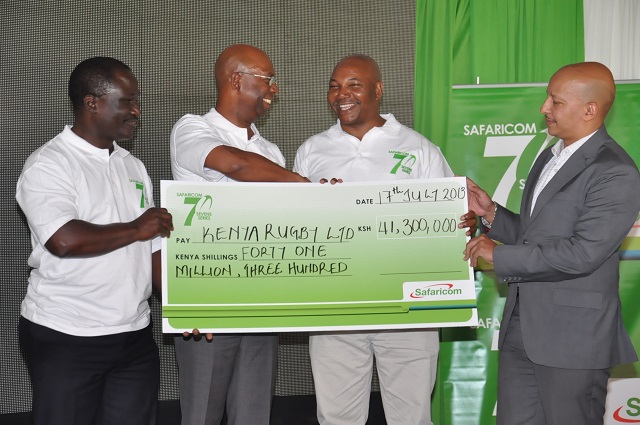 Safaricom has announced the signing of a new deal with Kenya Rugby Union worth Kshs. 140 million shillings for the Sevens title rights. With the recent performance by the national 7s rugby team, especially in the world cup held in Moscow last month, and the performance of the 15s side rugby is quickly becoming one of Kenya's most popular sports giving football and athletic a run for their money.
The new deal will include sponsorship of the local Sevens circuit under the newly launched Safaricom Sevens Series banner. This means that the Dala Sevens, Christie Sevens, Kabeberi, Driftwood and the Prinsloo Sevens will now fall under the newly launched banner. Driftwood and the Prinsloo Sevens will now fall under the newly launched banner. Safaricom's sponsorship of the circuit includes after parties which will be headlined by DJ Kaytrixx.
This year's Niko na Safaricom Live Nairobi concert will serve as the Safaricom Sevens after party event. The concert, slated to take place on the 21st of September at Kasarani, will complement the Safaricom Sevens in an explosive combination aimed at creating the most memorable Safaricom Sevens tournament yet.
And in a bid to further entrench the game, the Safaricom Sevens Series will reward 14 fans with a fully paid trip to any of the IRB circuit games. The 14 will be selected from each of the games in the circuit in a lottery which will be managed by the Telco.
The Safaricom Sevens Series will kick off with the Dala Sevens Kisumu to be held on August 3rd & 4th, followed by Kabeberi Sevens in Nairobi on August 10th and 11th. Nakuru will host the Prinsloo Sevens on 24th and 25th Augus with Driftwoods Sevens taking place in Mombasa on 31st of August and 1st September. The Christie Sevens which will close the regional circuit will take place in Nairobi on September 7th and 8th before the Safaricom 7's takes centre stage at its new venue on September 20th to 22nd.