Safaricom through a statement has announced that it will be conducting a maintenance exercise on its mobile money platform M-PESA tomorrow, Tuesday 19th October. The scheduled maintenance will begin from 2359h to 0400h Wednesday 20th October morning.
All M-PESA services will be unavailable at the stipulated time. This means that Kenyans should make the necessary arrangements if they plan to transact over that period.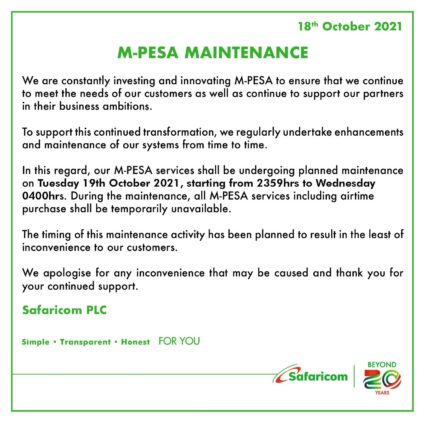 M-PESA has grown to be more than a mobile money product for sending and receiving cash. It has powerful business tools that are used widely by people to conduct local and international businesses.
In Kenya, the market share of M-PESA in the mobile money space is at more than 100%.
The mobile money platform has more than 30 million local active users, with 50 million users in the markets that use M-PESA in Africa.