Over the years, Kenya has produced some of the greatest athletes the world has ever seen. Individuals who through selfless sacrifice for flag and country have managed to firmly put our name on the global map. For a long time, Kenya was synonymous to our runners such that people out there thought that almost every Kenyan could run, clearly, they hadn't met some of us. These guys have been our ambassadors out there and they have done a good job of it I must say. Conditions in the sporting sector have not always been optimal but these guys have managed to overcome all the hurdles in their way to make us proud. Other than bringing glory to our country, sports has managed to be our single most unifying factor. When we are cheering out sports men and women competing out there we forget all our differences and cheer them on in one voice.
Sadly, some of these legends have faded into oblivion as Kenyans move onto the next big thing. Even some of our current athletes are not accorded the respect and honor that they deserve. There needs to be a change in the mindset towards our athletes and start celebrating their achievements both when they are winning or not. Hence the Sportpesa Tujiamini campaign. We also need to start believing and supporting our own because Kenya abounds in sporting talent.
Here are some of the athletes whom despite all odds managed to break world records;
Wangila Napunyi
Wangila who was born in 1967 was only 20 when he won Kenya's first and only welter weight gold medal at the 1988 Summer Olympic Games held in Seoul South Korea. At the Games he made history by becoming the first African to win an Olympic Gold medal in boxing. During the fight he was ranked as an underdog but went to beat Frenchman Laurent Boudauoni. Before this he won the Gold medal at the 1987 All Africa Games held in Nairobi. Up to this day, he is still the only Kenyan Olympic gold medal winner outside athletics and only boxer from Sub-Saharan Africa outside of South Africa to have won Olympic gold.
Wangila started his boxing career at the Muthurwa Social Hall and later went on to fight for various clubs before hitting the international stage. He sadly passed on from injuries back in 1994 during a fight with David Gonzales in Las Vegas at the age of 26. However, the legend of his exploits still lives on.
Kipchoge Keino
Kipchoge Keino is a former chairman of the Kenya Olympic Committee. He is considered by many as the father of athletics as his exploits helped inspire other Kenyan athletes to become the force that they are today. He started his winning ways when he won 2 Gold medals that is 1500 and 5000 metres at the first All Africa Games held in 1965 in Congo Brazzavile. At the  1966 Commonwealth Games in Kingston, Jamaica, he won a Gold medal in both the mile run and three mile run.
At the 1968 Summer Olympics in Mexico City, he won the 1500 metres gold medal defeating American favourite and world record holder Jim Ryun. Kipchoge entered this race late after he changed his mind about taking part in the race just before it started. At the time he had a gall bladder problem and had been advised by his doctor not to run as this would put him in danger. However, just a few hours to the race he changed his mind and caught a bus to the stadium. The bus got stuck in traffic and Kipchoge got off and run 3 kilometers to the stadium. He promptly entered the race and won it by 20 metres, the largest winning margin in the history of the event.
Joe Kadenge
Born in 1935, Kadenge's soccer career started Musingu Intermediate School where he undertook his early education. He later joined Maragoli United Football Club where he stayed for one season and joined AFC Leopards where he played until 1975. He started playing for the national team during the 1957 Gossage Cup competition held in Zanzibar. During this cup, he inspired Kenya to a 2-0 victory over Uganda. He hung up his boot briefly but came back in the same year to propel the national team to victory during the first East and Central Africa Challenge Cup 1965. He finally hung up his boot for good in 1970 and went into coaching. He was appointed as the coach for Harambee Stars in 2002. Its speaks a lot to Kadenge's prowess that he is still considered a football great, decades after he stopped playing. Joe Kadenge at his advanced age currently works as a taxi driver.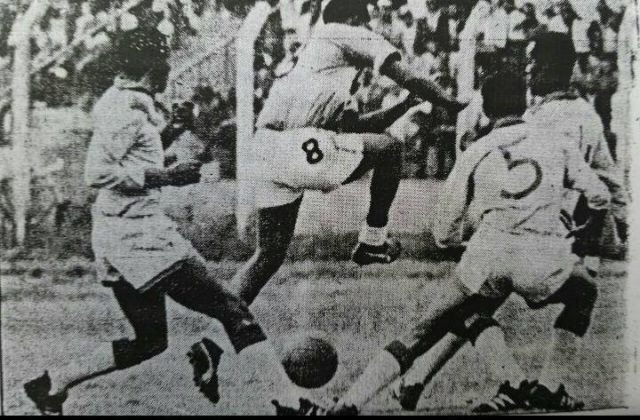 There are a few of the many great athletes that Kenya has produced over the years but are either forgotten or not given the recognition that they deserve. We need to start treating our athletes the same other countries do, like the superstars they are. Be part of the change and join the Tujiamini movement.